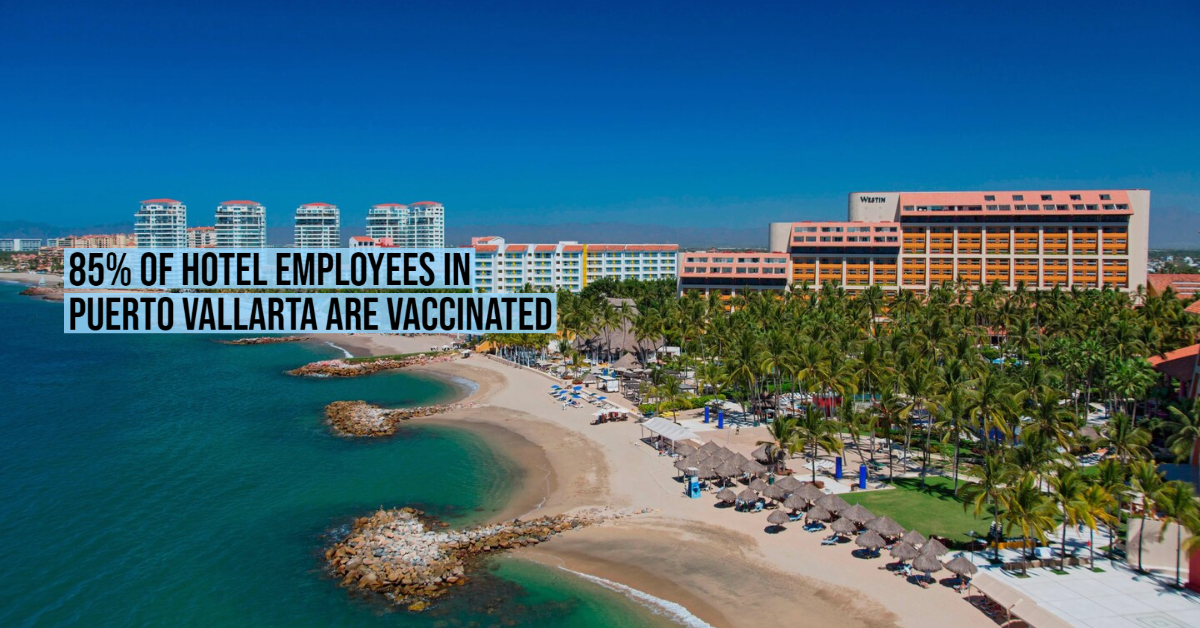 85% of Puerto Vallarta hotel workers are vaccinated
To date, 85% of hotel workers in Puerto Vallarta have been vaccinated, in part because of the industry's commitment to guest safety, as announced by the President of the Hotel and Motel Association of this city, Álvaro Garcíarce Monraz.
"It is estimated that we have 85% vaccinated, which is a very good number," said the city hall official, who estimated that both the vaccination and the message that is given to tourists with it are of of the utmost importance.
"It is important that tourists feel safe when coming to Puerto Vallarta," said Garcíarce Monraz, who urged those who have not been vaccinated to do so now, "because only in this way will we can get out of this pandemic, "he added.
Puerto Vallarta is the first of Mexico's tourist destinations where the vaccination process has been completed in all age groups over 18; However, there are still around 30,000 people who have not been vaccinated, according to data from health authorities.
---
Receive the PVDN morning newsletter and exclusive content by becoming a PVDN Supporter, find out more here
---
Trending stories right now on PVDN
Hotel Marsol in romantic zone loses water after 17 years of non-payment

Puerto Vallarta's Drinking Water, Sanitation and Sanitation System (Seapal) continues its campaign to urge users who have debt with the agency to be up to date on their bills, especially those in the industrial sector. and commercial. Following the third water collection management notice and water cancellation notice …

Breathalyzer operations resume in Puerto Vallarta

The Puerto Vallarta Municipal Roads Branch, led by Jorge Alberto Castillo Núñez, has started performing breathalyzer operations in Puerto Vallarta with the goal of reducing accidents and fatalities at the hands of intoxicated drivers in the city. Mayor Luis Alberto Michel Rodríguez ordered operations to administer breathalyzers on Friday …

Puerto Vallarta briefing with Felipe Álvarez; October 19, 2021

Nighttime breathalyzers have returned to Puerto Vallarta at random locations throughout the week and every weekend at Francisco Villa Avenue and Los Tules Avenue, in Fluvial Vallarta.

Sixth cruise ship in October arrives in Puerto Vallarta

The arrival of cruise ships in Puerto Vallarta continues with the Emerald Princess, of Princess Cruise Lines, which arrived at Pier 1 of the Integral Port Administration (API). The Emerald Princess is the sixth cruise ship to dock in Puerto Vallarta this month, out of 14 expected in October, leaving a positive impact on…

Sunwing to reactivate connections to Puerto Vallarta with 288 flights from Canada

Sunwing Airlines has announced the reactivation of its connections between 10 Canadian cities and Puerto Vallarta for the winter season. This represents the return of more than 54,000 Canadian tourists to the Mexican beach, reported the Puerto Vallarta Tourism Promotion Trust. The routes will begin to operate during the winter period, anticipating 288 flights from Edmonton, Ottawa,…