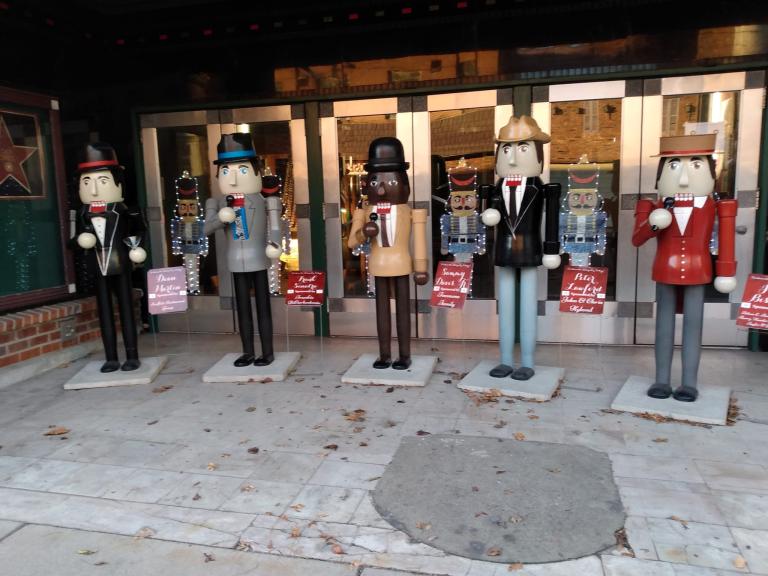 A Nutcracker Suite for a Merry Christmas
Over a week ago now, I went semi-viral on Twitter to share a photo I took of my six-foot-tall John Calvin municipal nutcracker.
I write a lot of haunting things that I put my heart and soul into, and people don't notice them. Every time I'm retweeted dozens of times it's for something wacky like John Calvin's Nutcracker.
A surprising number of people would love a John Calvin municipal nutcracker for themselves, as I found out later that afternoon. But an even greater number of people have never heard of a John Calvin nutcracker and cannot understand why there was one standing in a planter along Fourth Street in Steubenville. So I realized I had to go back and explain. The reason there's a John Calvin nutcracker in a planter on Fourth Street in Steubenville is that Steubenville is crazy. And for several weeks from November to January, it's out of his mind in a fun way.
Every year, just before Thanksgiving until after the first week of January, Steubenville hosts a delightfully quirky Christmas exhibit called "The Nutcracker Village". The Nutcracker Village is a collection of over 100 six-foot-tall nutcrackers commissioned by schools, clubs, businesses and places of worship in and around Steubenville, each with a different theme. Everything is organized by a local business and yes they have a gift shop. You're going to want to click that link and buy yourself some miniature public art replicas because they are hilarious. I'm incredibly cranky and cynical about living in Steubenville, as my readers know, but this time of year is almost worth it.
Let me take you on a short walking tour of downtown Steubenville, the only time of year when the weather is good. All these photos and the videos I refer to are my own, taken during my visit to the village of The Nutcracker a few weeks ago. Let's get started.
I started in the courtyard of the Episcopal Church, which has a good combination of sweet and spooky nutcrackers. You can see them in this short video because there was too much to photograph. I also don't know why they put all the Catholic saints in an episcopal cemetery, but it looked lovely.
At the end of the block, a safe distance from the Catholic Saints, we have the aforementioned John Calvin and Martin Luther, looking grim.
If there was ever a man born, or should I say predestined, to be commemorated in the form of a nutcracker, it was Jean Calvin. The grimace suits him so well.
Further down the street we have a chef, a Lois Lane and a Clark Kent, and a creepy pirate:
At the end of the block in front of the theater we have the Rat Pack, because everything in Steubenville has to include a tribute to Dean Martin.
And across the street are nutcrackers who care about your health.
I just jump around and show you my favorites because there are so many. Up to Market Street I took a video of some Christmas cryptids. Take a look at this Saint Nicholas, because it's gonna be really funny later.
This Terminator nutcracker is responsible for some bad dad jokes like "I'll be Bach." I go by Tchaikovsky.

Then we have David Bowie as Starman, who has the reverse John Calvin problem. Calvin was so perfect at making a nutcracker out of him that he finds himself in a strange valley. Bowie didn't look like a nutcracker in any way, so the effigy didn't quite look like him. But it's a good faith effort, given the format.

David Bowie is the nutcracker who was stolen from his pedestal one night, as I recounted years ago.
Apart from the charming Book Marx bookstore, we have Ebenezer Scrooge:
Mr. Marx also has the biggest house cat I have ever seen, and I went to visit him at this point in my walking tour.
Now come on the artistic nutcrackers. These lovely ones in the middle of Fourth Street were my favorite part.
And then an ethnic nutcracker parade sponsored by various churches and clubs nearby:
And then we turn the corner, and there's a very patriotic nutcracker exhibit at the courthouse that I have recorded while I was passing.
Finally, there are the chalets selling fudge and honey and other local products in the park of Fort Steuben.
And this is the tour!
Now, there is another funny piece of Steubenville Nutcracker news that I have been delaying telling you. Remember when I said someone once stole the David Bowie effigy and took it for a joy ride? Surely that sounds like the dumbest thing in the world to you. You've probably thought to yourself, "Who would steal a one-of-a-kind nutcracker off municipal property, in front of cameras, and return it a few hours later?" Did they think no one would miss it? Did they think they could pass him off as ANOTHER nutcracker they had just owned that looked like him? You probably thought no one else would ever be stupid enough to steal a Steubenville nutcracker. But you would be wrong.
It happened again this year. It was Saint Nicholas' nutcracker, and again, the whole thing was filmed.
These security camera photos were posted publicly on Facebook by Mr. Nelson, who runs the Nutcracker Village display. Thank you for taking the time to admire them. Can't decide if my favorite part is that someone decided to steal a nutcracker in the first place, or thought they could get away with wearing sunglasses and a hoodie when leaving with the nutcracker clearly visible on the back of the van. But upon reflection, I think the best part has to be poor Bishop Myra lying on his back in the back of the truck, still holding his butt. Someone receives a piece of coal for Christmas.
Either way, the thief soon realized that you couldn't get far with a kidnapped saint in the bed of your truck, and the nutcracker was made safe and sound.
If only all of Steubenville's problems were resolved so easily.
This city is a silly place, but I don't mind this time of year.
Image via Pixabay
Mary Pezzulo is the author of Meditations on the Stations of the Cross and Stumbling in Grace: How We Meet God in Tiny Works of Mercy.
Steel Magnificat works almost entirely on tips. To tip the author, visit our donation page.