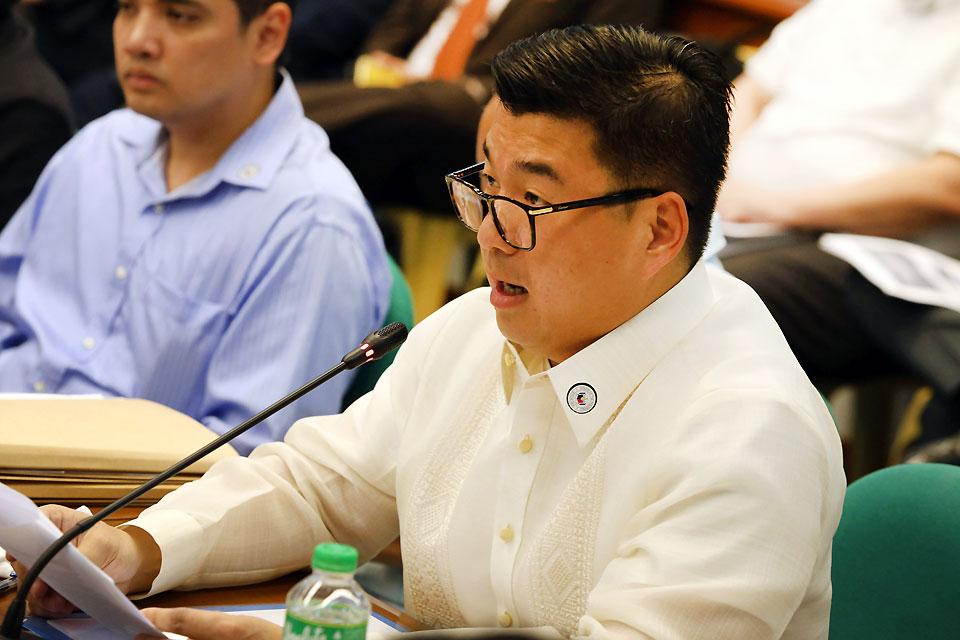 Dennis Uy finances Malampaya buyout with foreign loans
If all goes according to plan for Davao City businessman Dennis Uy, he will control 90% of the Palawan offshore gas field.
His company Malampaya Energy XP Pte. Ltd. purchases Shell Philippines Exploration BV (SPEX) for $ 380 million and up to $ 80 million in additional payments from 2022 to 2024.
SPEX has a 45% operational stake in service contract 38 or the Malampaya project.
Malampaya Energy had already bought Chevron Malampaya LLC from the Malampaya Consortium in March last year for $ 565 million.
Chevron Malampaya LLC, now UC38 LLC, owns the remaining 45% of the gas-to-power project.
How did Dennis Uy, one of President Rodrigo Duterte's main campaign donors in 2016, afford these hundreds of millions of dollars acquisitions?
"The acquisition is 100% funded by our existing lenders," Belinda Racela, senior executive of Malampaya Energy, told GMA News Online.
Racela said the foreign lenders are the same banks that funded Uy's acquisition of Chevron's stake in Malampaya last year.
"These are reputable international financial institutions that are currently lenders of the UC38 LLC stake which was purchased from Chevron," she said.
The Malampaya Energy executive, however, refused to disclose the identity of the foreign lenders.
"However, when it comes to our lenders, we can't say who they are," she said.
Nonetheless, she said the lenders agreed to provide additional acquisition financing "based on their knowledge and comfort with Malampaya's robust business model, sound finances and contracted cash flow".
"Equally important, they have a high degree of confidence in Malampaya Energy's ability to operate the business safely and reliably," Racela said.
"Malampaya Energy has a significant level of technical and operational expertise from the Shell and Ex-Chevron staff who will remain with the company as well as the breadth of support that will be provided by professional subcontractors and technical authorities, both local and international. , "she added.
The Malampaya gas-fired power generation facility powers three gas-fired power plants with a total generation capacity of 2,700 megawatts (MW), supplying up to 30% of Luzon's power generation needs.
Connected to the onshore gas factories of Batangas, the offshore installation of Malampaya in the north of Palawan was inaugurated in 2001.
The project has also provided a crucial source of revenue for the government with a total national government net share amounting to 261,681,610,752.59 from the start of its commercial operations in 2002 until 2019.
Take control
Since Duterte took over the presidency in 2016, Uy has expanded his empire through several acquisitions and projects, including the buyout of the Malampaya plant, which supplies one-third of Luzon's electricity needs.
Dutch oil giant Shell Petroleum NV announced last week that it had signed a share purchase agreement with Malampaya Energy, a subsidiary of Uy's Udenna Corp., for the sale of a majority stake in the Malampaya gas field.
The Shell-Uy transaction, which is subject to partner and regulatory approval, is expected to be finalized by the end of 2021.
The deal might not need to get the go-ahead from the Philippine Competition Commission as a Bayanihan to Recover as Once Act or Bayanihan 2 exempt from mergers and acquisitions (M&A) with a transaction value of less than 50 billion pesos.
Energy Secretary Alfonso Cusi, however, said that once the transaction is completed at the consortium level, it will still be submitted to the DOE for review and approval in accordance with Presidential Decree No.87, also known as petroleum exploration and development. Law of 1972 (PD87).
Prior to the planned takeover by Uy, the Malampaya Consortium consisted of SPEX, Chevron and the Philippine National Oil Company-Exploration Corporation, which still owns a 10% stake in the gas field.
Expansion, acquisitions
In 2017, Uy continued to buy Frenzy, acquiring several companies such as Familymart, Conti's and Enderun.
Global Gateway Development Corporation (GGDC), a subsidiary of Udenna, currently holds a 177 hectare lease in the Clark Freeport area in Mabalacat, Pampanga.
In 2019, Phoenix Petroleum from Uy and its partner China National Offshore Oil Corporation (CNOC) were given the green light to continue their liquefied natural gas (LNG) project in Batangas.
Uy's Udenna further diversified by entering the Mislatel Consortium – now DITO Telecommunity – with Chelsea Logistics, Mindanao Islamic Telephone Company Inc. and Chinese state-owned China Telecommunications Corporation.
The consortium was officially declared last November as the country's new major player in the telecommunications industry.
At the end of last year, Uy's Chelsea Logistics also obtained approval from the National Economic Development and Development Authority – Investment Coordination Committee (NEDA-ICC) to modernize Davao International Airport (DIA ).
Uy's legal adviser and spokesperson for several of his companies, Adel Tamano, pointed out that Uy has been a wealthy businessman for decades.
"So all this talk… 'Why is he buying this and that?' Well, he buys companies because he sees the opportunity and because he already has the base, "Tamano said. —NB, GMA News