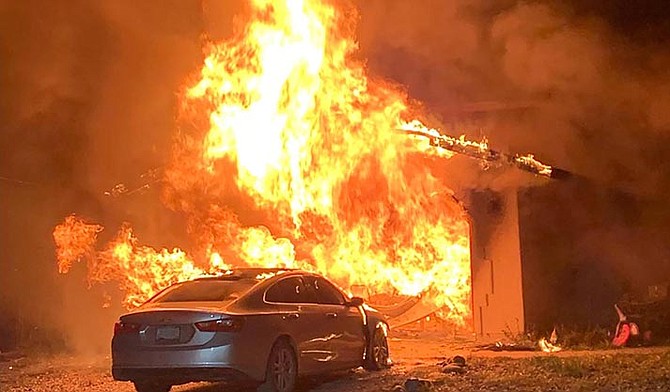 Family escapes safely from Rimrock fire | The daily mail
RIMROCK – A family escaped safely from their home early Sunday morning, March 20, after their garage caught fire.
The fire gutted the house and destroyed their belongings, said Ken Krebbs, fire marshal with the Copper Canyon Fire and Medical District.
But hours after the fire, a quick community response on Facebook gathered food, clothes and even diapers for the couple and their three young children.
Krebbs said the Red Cross has been contacted about emergency accommodation. Sadly, Krebbs said the family lost a pet in the fire, which was a dog.
"The garage was completely swallowed up and he went into the attic" when firefighters arrived on the scene around 5 a.m., Krebbs said.
The family of two adults and three children got out safely and were at the neighbor's house when firefighters arrived. The cause is undetermined at this time, Krebbs said. The family heard something in the garage and saw the fire, but their smoke detectors did not work, the fire marshal added.
The crews were well knocked down by the fire on the structure, but there was a lot of smoke and heat damage, and they lost their belongings.
Autumn Yohe of Rimrock heard about the fire on Sunday morning and launched a community response on Facebook to help the couple and the three daughters.
"I posted on the Verde Valley Facebook group that the family is in need after a fire took over their house, and my phone blew up with people meeting me and dropping stuff off at my house. "said the owner of online business Share Madness.
"We need clothes for 12 month old girls," Yohe wrote on a local message board. "Size 2 diapers and wipes. Necessary toiletries too.
"I have a few small bags of clothes for the two adults. They can do frozen foods if they have someone who can store them," another woman asked.
Yohe said that Facebook has helped her custom shop business, so why couldn't it help this family's situation?
"We had strangers showing up with boxes of new stuff for the girls and the parents," she added.
They provided the family with clothes, food, toys, gift cards, coloring books, shoes and other items, Yohe said.
At 3 p.m., Yohe posted, "Thank you to everyone who donated. We are covered now. I will contact you if the family needs anything else.
However, that didn't stop people from continuing to offer more help on the Facebook post.
"The community came together and blessed this family without hesitation," Yohe said. "My heart warmed. We are lucky to live in a community that supports each other in times of need."
Email Vyto Starinskas at [email protected]