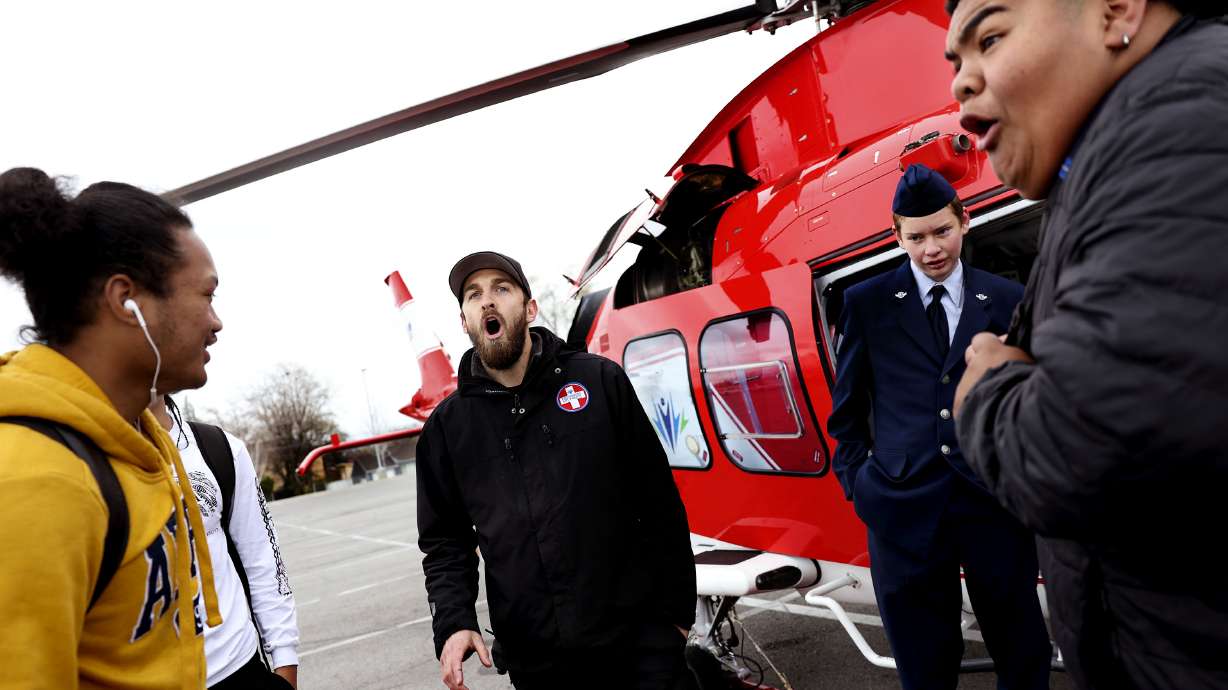 Granite School District students get a taste of the aviation industry
Anesti Ailua, left, a senior at Granger High, and Donavin Nuusila, a junior at Granger, react after Ryan Taul, center, a helicopter mechanic, told them how much money they can make as a helicopter mechanic while ROTC freshman Zach Carter listens to Utah Rotor Pathway event at Granger High School in West Valley on March 31. (Laura Seitz, Deseret News)
Estimated reading time: 2-3 minutes
WEST VALLEY CITY — Students interested in aviation had a unique opportunity Thursday to chat with industry professionals at a helicopter flyover event at Granger High School.
"The goal is to try to get more students to consider this as a career field," said Sandi Hemmert, career and technical education coordinator at the Granite School District.
Hemmert, who also sits on the board of the Utah Rotor Association, cited strong demand for workers in the aviation industry as the main reason the organization brought its Pathway program to the district.
The program brings together industry professionals and university and high school students to provide helicopter pilot and maintenance training. Helicopters from emergency services, firefighting agencies, training centers and other organizations stopped at Granger High School on Thursday to offer students and the community at large the opportunity to get a glimpse knowledge of machinery.
"(The students) got to see the helicopters coming, and then they got to talk to the different people that came in about the types of career openings (available) and what they would need to do," Hemmert said.
The Granite School District offers a concurrent-enrollment aviation program, in which students receive both high school and college credit for courses they have taken. Students pay $5 per credit hour, which is affordable and prepares them well for college, Hemmert said.
"It allows us to get more kids to set a trajectory in what they might want to do and it really saves them in the cost of their college credits," Hemmert said.
Hemmert said the district received great feedback on the program from students, also noting that the experience was helpful for students who decided they might not want a career in aviation. , after all.
"Some of the kids said to me, 'We really don't think that's what we want to do,' which is as important as they decide to do it," Hemmert said.
Overall, she said the ability to speak with aviation professionals and see some of the day-to-day jobs in the industry is helpful for students looking to decide on a career path.
"Students suddenly have a better idea of ​​what it is, what you would do, and it helps broaden their perspective so they can choose that as a place to go," Hemmert said.
×
Pictures
Related links
Related stories
More stories that might interest you