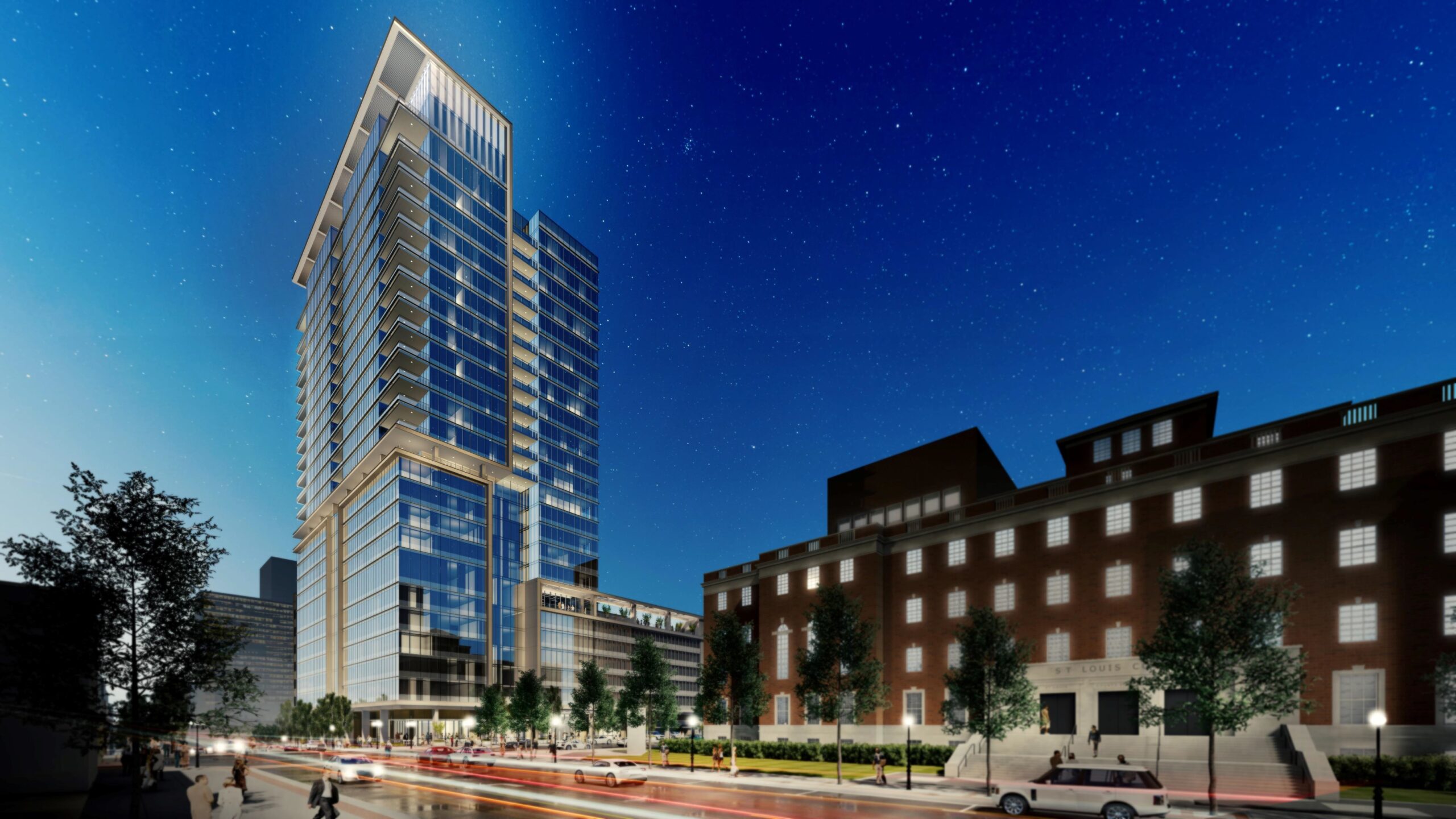 Hotel, Condos offered at 10 S Central in Clayton
Green Street and Midas Hospitality propose a 25-story (294-foot-tall), 600,000-square-foot building on approximately 0.88 acres at 10 S Central on the corner of Forsyth where World News operated. The architect is Green Street's HDA Architects. The Clayton Board of Aldermen will consider the proposal at their June 14 meeting. The estimated cost of the project is $100 million.
From the proposal:
The hotel will include approximately 180 rooms on levels 2-6 and levels 8-11. On level 7 there will be a ballroom, meeting rooms, conference room, restaurant, bar and outdoor terrace . The restaurant, bar and outdoor terrace will be open to the general public. There will be approximately 73 high-end condos on levels 12 through 24. On level 25 there will be an indoor amenity area and an outdoor amenity area for use by condo owners. On level 1, there will be the hotel lobby, a restaurant and bar, and a separate entrance/lobby for the condos. The restaurant and bar on this floor will also be open to the public. On level -1 there is a small retail space accessible from the public sidewalk. Next to the 25-story tower will be a parking garage with 3 levels of underground parking for condo owners (approximately 154 spaces) and 5 levels of parking above ground level for the hotel, restaurant, bar, ballroom guests and general public parking (approximately 276 spaces).
The condo entrance would be on Forsyth and the hotel entrance would be on Central. Forsyth's driveway would be cleared.
A mural over the parking garage would help brighten the day for viewers in the surface parking lot to the south.
Facing Central Ave. The three-way entrance to the garage is on the right.
It's a shame to lose more of Clayton's fine-grained development model. Maybe next time build on a surface parking lot?