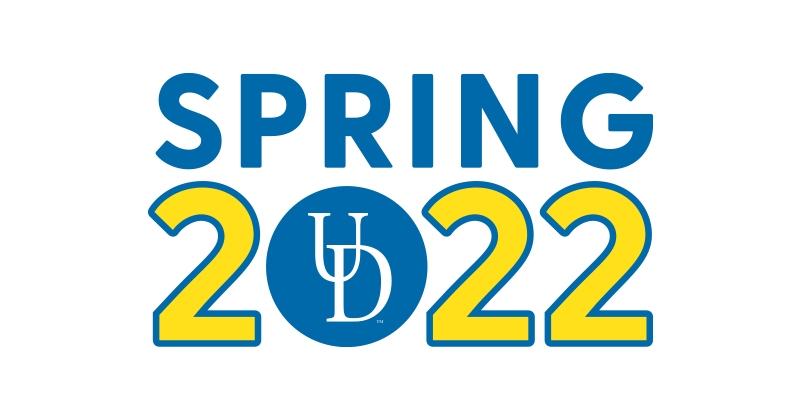 March 9 Spring 2022 COVID-19 Update
For the most up-to-date information on the University's response to the pandemic, visit www.udel.edu/coronavirus. Do you have a specific question? Check the FAQswhich are updated regularly as questions come in [email protected].
Latest protocol updates: In light of recent developments regarding the pandemic, on March 3, the University announced several protocol changes effective immediately:
Face masks are no longer required indoors in spaces other than classrooms, including research labs, offices, and sporting event spaces.
Face coverings continue to be required in all classrooms, daycares, and when using UD-sponsored transportation. Those speaking in front of a class may remove their mask if they are up to date with COVID-19 vaccinations and are at least 6 feet away from others.
Face masks are still required in all areas of health and clinics, including all COVID testing sites.
Vaccination and testing are no longer mandatory for campus visitors.
Restrictions on domestic and international travel (including Tier 4 countries) are lifted. All travelers must still be up to date with their vaccinations to travel.
The masks are available: KN95 masks are available for students, faculty and staff. Students in halls of residence can obtain KN95 masks there; students living off-campus can pick up masks by showing a valid UD ID at Trabant University Center, Perkins Student Center, Morris Library, and Carpenter Sports Building. Faculty and staff can obtain masks from their individual departments or units. As a reminder, gaiters and bandanas do not meet the UD requirement. Detailed information on mask protocols can be found on the coronavirus site.
COVID-19 testing: Asymptomatic PCR testing continues to be available Monday through Thursday on campus. Effective Monday, March 14, testing will no longer be available at Pencader Dining Hall. Simultaneously, the Harker ISE Lab test center is expanding its hours and will be open from 9 a.m. to 2 p.m., Monday through Thursday. These hours at Harker ISE Lab will remain in effect for the remainder of the spring semester, except for the week of spring break when the center will be closed March 28-31. After spring break, the center will reopen on Monday, April 4 and will operate from 9 a.m. to 2 p.m., Monday through Thursday.
Symptomatic testing is also available for students from Student Health Services. Community testing continues to be available through Curative from 10 a.m. to 4 p.m. every Friday in Lot #6 on the Laird Campus. Individuals can register online for this testing location.
This week, Curative has its pop-up test trailer at Healthy Way on UD's STAR campus from 10 a.m. to 5 p.m., through Saturday, March 12. Visitors must use street parking on Avenue 1743. Register for an appointment online.
Home antigen testing is also available on campus. All students, faculty and staff can sign up for one home antigen test kit per week. Please note that the antigen test does not meet the weekly PCR test requirement for people who are not current with COVID vaccination.
Research update: Effective March 1, 2022, travel restrictions to Tier 4 countries have been lifted for UD international research, scholarship, and creative/performing arts activities. It is no longer necessary to complete and approve a travel request with the Research Office. Travelers must always be vaccinated before the start of the trip.
The next Research Town Hall, moderated by Charlie Riordan, Vice President for Research, Scholarship and Innovation, will be held on Monday, March 14 from 2-3 p.m. Iain Crawford, faculty director of the Undergraduate Research Program and the McNair Scholars Program, will join the town hall as a guest speaker. Register online. Email [email protected] with your research-related questions.
Don't forget to register: All members of the UD community who are on campus must complete the daily health screening at covidcheck.udel.edu.
Vaccination obligation: All UD students must upload their COVID-19 reminder documentation to the UD Health Portal within 30 days of eligibility or submit a waiver request.
Get boosted: A COVID-19 booster clinic is scheduled from 3-5 p.m., Monday, March 21, at the Pencader Dining Hall, Room 115. Register here. COVID-19 vaccines and boosters are also widely available at many local pharmacies, as well as weekdays at the Hudson State Service Center, 501 Ogletown Rd., Newark (phone 302-283-7570). When you receive your reminder, remember to update your records on the UD Health Portal.
Reminders
Resources for Academic Continuity: The provost's website provides information for professors, deans, and department chairs on academic protocols for the spring, resources for teaching, and details of past town hall meetings on academic affairs.
Get help with the essentials: Students struggling with housing, food, or other basic needs should visit the Office of the Dean of Student Aid webpage with the essentials to connect to relevant resources and support.
Support for student well-being is ongoing:
UD Helpline for Mental Health and Victim Advocacy at 302-831-1001
Crisis Text Line at 741741 (text "UDTEXT" or "STEVE" to reach a professional who specializes in supporting students of color)
CareNet for medical advice at 800-681-3957
For more information on all wellbeing services, visit the Wellbeing in Student Life webpage.
Support available: The Employee Assistance Program is now offered by ComPsych GuidanceResources. This is a free program available to non-members of the Delaware State Group Health Plan and their dependents. As part of ComPsych's commitment, EAP services are available until the end of the COVID-19 national public health emergency for all State of Delaware employees, including temporary, casual, seasonal and benefit-eligible workers who are not currently enrolled in a Delaware State Highmark Health Plan or Aetna. Additionally, Employee Health and Wellbeing has a variety of resources available to help employees.
Questions? Email [email protected]