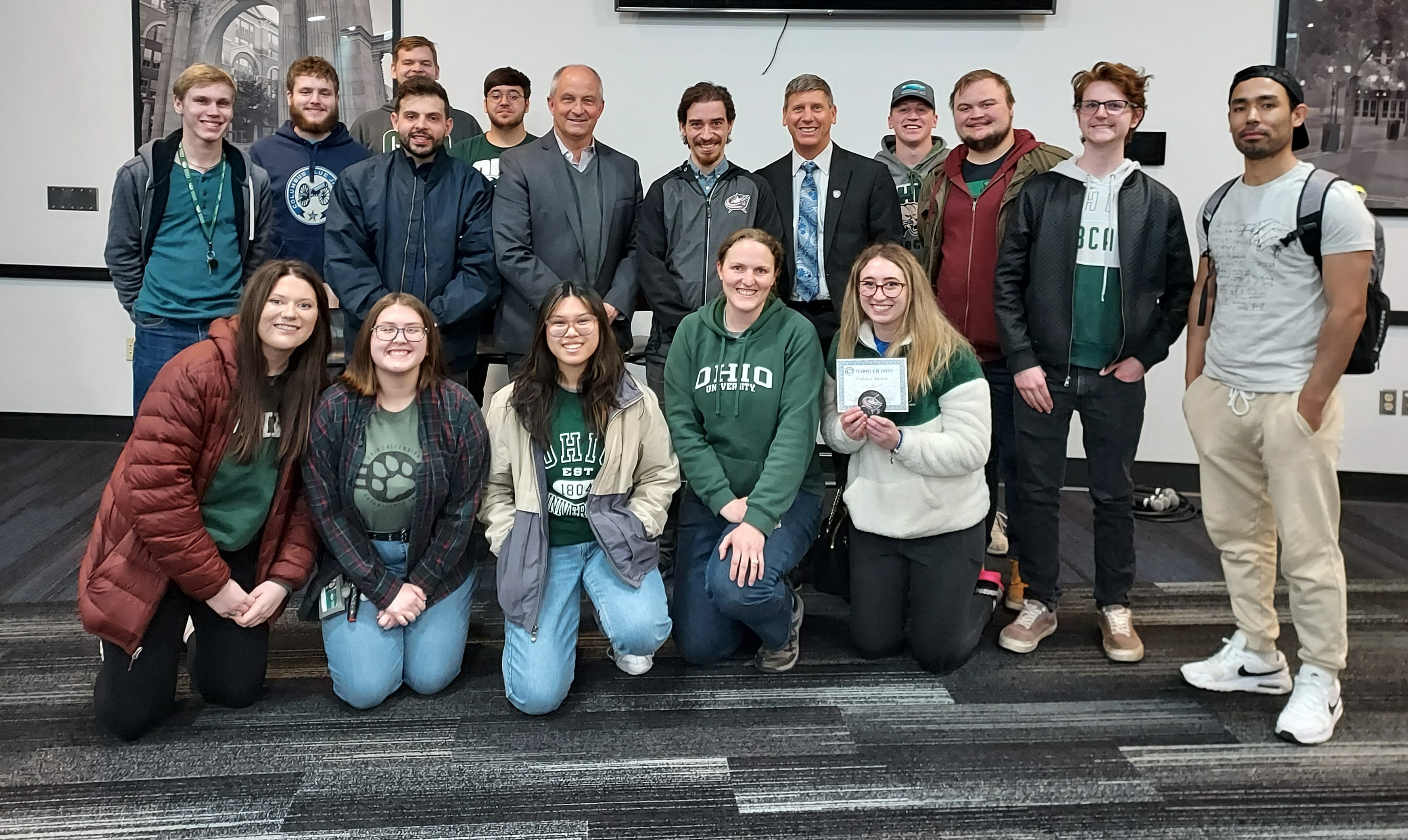 MDIA students go behind the scenes with the Columbus Blue Jackets production team
On Tuesday, March 29, students from the School of Media Arts and Studies participated in the Columbus Blue Jackets Video Production Day. The 12 participants included undergraduate and graduate students with an interest in sports broadcasting and production.
"So many of our students are interested in live production and the world of sports is a great place to start," said Andie Walla, assistant professor of education in the School of Media Arts and Studies. This is the second time Walla has invited students to participate.
The event is hosted by the Blue Jackets and includes a tour of Nationwide Arena's video production facilities, including the control room, press conference room and TV and radio booths, and the band stayed to watch the Blue Jackets play the New York Islanders. that night.
"My experience at the Columbus Blue Jackets video production day was very interesting," said Eileen Eidelberg, Senior Integrated Media Specialist. "I had the opportunity to step into the Blue Jackets production truck and get to meet director Joel and TD Kim; they let me follow them during the game in the second period.
The students participated in a panel of speakers with four veteran members of the Blue Jackets production team, including a video producer and a motion graphic designer. David Maetzold, rinkside reporter and games host for Fox Sports Ohio, offered career advice and the panel also included OHIO alum Greg Murry, sound and voice announcer for the Columbus Blue Jackets .
"I won a signed Roslovic Puck for keeping the conversation going during the Q&A," Eidelberg said. "Dave, the person who took me to the production truck, told me that I was the most eager and had a good attitude and a genuine interest in chasing a dream that will take me far."
Attendees included undergraduate and graduate students from several university majors and programs, all of whom had the chance to borrow skates and take them for a spin on the professional rink.
"I enjoyed everything we did at Nationwide Arena," Eidelberg said. "It will be a day that I will remember for the rest of my life."