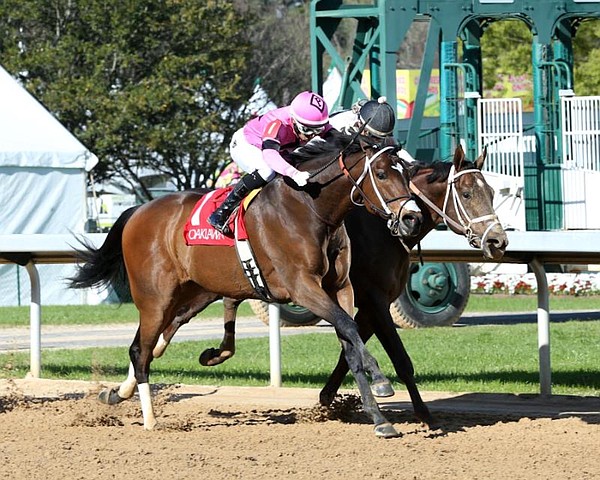 Miles to go before the winds calm down
As Robert Redford told campaign manager Peter Boyle in "The Candidate" after beating an incumbent US senator from California, "What do we do now?
Where are we going after an Arkansas Derby on April 2? After one Saturday, Oaklawn offered four high stakes races totaling $2.5 million and drew 60,000 fans for 13 races. Near darkness enveloped the track after seven hours of racing as Kelsi Harr powered the winner of the final race home.
What exactly do you do after watching a Humphrey Bogart triple feature on Turner Classic Movies?
Expect the Kentucky Derby, of course, although the Churchill Downs classic is 32 days off. And see which Oaklawn-based artists will run a mile and a quarter on the first Saturday in May at Churchill Downs. With the Secret Oath filly set to race in the May 6 Kentucky Oaks, look for Year 1 Arkansas Derby winner Cyberknife, runner-up Barber Road and one or two other Oaklawn starters in the scheduled Derby field of 20 horses.
Hall of Fame trainer Wayne Lukas got a real bill on Secret Oath in his first run against men. As often happens, she had traffic problems for a mile and an eighth. But what a move she made at turn two, challenging Cyberknife in the stretch before tiring late and finishing third. Filly Arrogate, as written here last week, belonged to the estate.
Lukas, still with options, dispatches Oaklawn winner and Grade 2 Rebel Stakes runner-up Ethereal Road in Saturday's $1 million Blue Grass at Keeneland. If nothing else, the 85-year-old coach is sure to delight turf writers looking for a new angle, one that doesn't involve Bob Baffert.
Let's not forget that Oaklawn is open five other Saturdays and four Sundays (excluding Easter). Two Tier 1 races on April 23, the $1 million Apple Blossom and Oaklawn handicaps, come a week after the $500,000 Tier 3 fleet sprint handicap, the latter expected to attract sprinter Jackie's Warrior, winner of an Eclipse award.
Four stake races remain for Arkansas-bred horses, the $150,000 Rainbow and Rainbow Miss (fillies) on Saturday and the $150,000 Natural State Breeders and $200,000 Arkansas Breeders Championship on the closing weekend. Gar Hole, third on Saturday against open company, could be aiming for his fifth win of the game.
The last two Saturdays in April feature two $150,000 races for 3-year-olds, the April 23 Oaklawn Stakes with paid entry to the Preakness for the winner and the April 30 Bachelor for sprinters.
People still ask about the Racing Festival of the South, which the late Charles J. Cella founded in 1974 and for years anchored the final week of the season. The composition of the stakes is well remembered: Fantasy on the penultimate Saturday, Bachelor on Monday, Prima Donna (3-year-old fillies) on Tuesday, Apple Blossom on Wednesday, Count Fleet on Thursday, Oaklawn Handicap on Friday and Arkansas Derby closing Saturday.
There have been changes – some races have been added, others omitted – over the years and over time it has required a dashboard to keep track of the dates. The current trend at this track and others is to pack a Saturday card with stake races. Oaklawn had originally scheduled five events with extra money on Saturday before the $150,000 Temperence Hill was pushed back a day due to a short field; which, incidentally, turned into an exciting race at the rare, for Oaklawn, a mile-and-a-half distance with favorites Lone Rock and Last Samurai one-two on Sunday after winning the December stakes.
It misses announcer Terry Wallace calling the racing festival "the most prestigious week in North American racing," even in years when it wasn't. Oaklawn withstood the nightmarish Arkansas Derby in 1999 – who can forget Valhol? – with two decades of recurring brilliance following stock market increases.
Oaklawn has become more than just a racetrack, one that recently hosted a Grand Funk Railroad concert hours after a Saturday race card. Under economic pressure from a Pine Bluff casino, Oaklawn pushes the total experience of racing, gaming, dining and lodging on the course. More than ever, Oaklawn is an integral part of our community and those who think Hot Springs wouldn't feel its loss are, if you ask me, fools.
A request before Louis Cella and his people plan Oaklawn's next racing season (presumably December 2022 to May 2023). Frankly, a few stakes races could use a new name. How much time, for example, was spent naming the four in December 2021? Advent, Poinsettia, Mistletoe and Tinsel, although seasonal, do not quicken the pulse.
Why not acknowledge Oaklawn's history by naming the stakes races after, say, Terry Wallace, Bob Holthus, John Lively and Garth Patterson, for starters, major figures of the past. The year he became the track's career leader in owner-won races, John Ed Anthony is overdue for a tribute.
And please declare a moratorium on any further racing with Oaklawn on their behalf. The Oaklawn Handicap should stand alone, but instead screams for attention with the Oaklawn Mile and Oaklawn Stakes. This latest race, held on closing day last year and with a Preakness berth for the winner, might not be renamed Charles J. Cella in memory of the track's longtime president.
While we're on the subject, rename the Purple Martin the Althea (one of his old nicknames) in honor of Arkansas' only Derby-winning filly. Fifty years after winning the Arkansas Derby and turning heads with a second in the Kentucky Derby, No Le Hace deserves a tribute. And if Whitmore is honored — rightly so, it says here — name another sprint stake after Chindi, one of the most beloved horses in track history.
Food for thought while thanking Oaklawn for four months (well into a fifth) of quality racing.