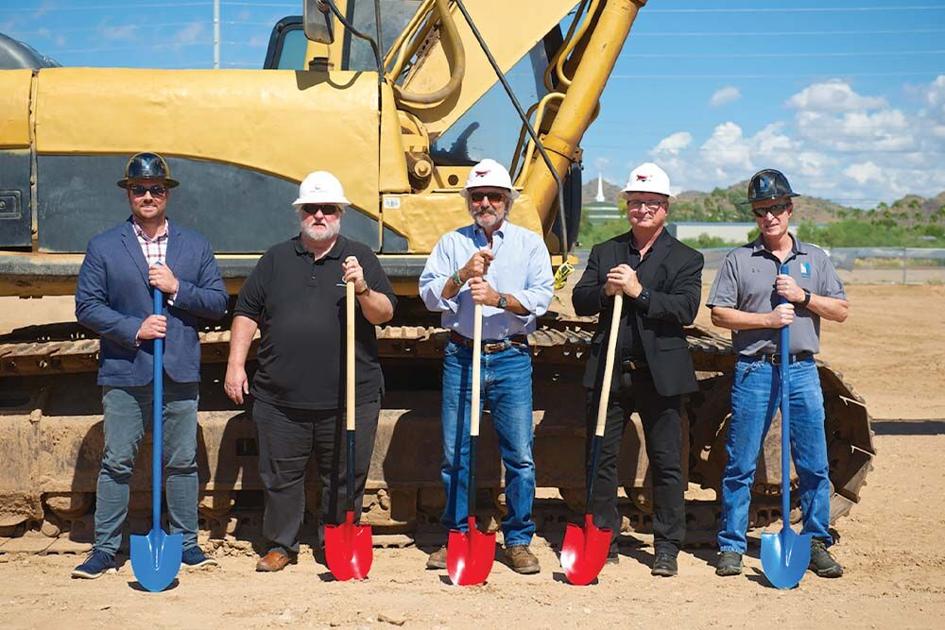 Red Hawk Garage Suites innovates on a 3 acre space | New
Red Hawk Garage Suites opened its 48,000 square foot space located on 15th Avenue and Happy Valley Road on October 6.
The space will house 46 garages and is expected to be partially ready by March and fully completed by June.
"It's a way of life," said Charles Eckert Jr., CEO of Red Hawk Development and Red Hawk Garage Suites. "There are groups of guys who are going to buy a garage and have two of their friends buy garages."
The space will include a large community clubhouse with a club room for guests to smoke cigars, a wet bar and a large community refrigerator.
Each of the garages will have plumbing to accommodate a washroom, as well as 120 amps of power and air conditioning capacity. The facility will have a clubhouse with a club room, wet bar and refrigerator.
"It is a gathering place for people with common interests," Eckert said. "You can build your own man cave in these things."
With the space just starting to build and its plans starting to take shape in 2018, this is something Eckert has wanted to build for over a decade and a half.
Eckert heard about the idea from acquaintances in Colorado who were setting up personal warehouses around 2005. Soon after, Eckert worked with several groups on the same concepts, including Toy Barn.
Around 2007, when Toy Barn was preparing to develop its first project on Lone Mountain Road, Eckert envisioned a space similar to Anthem.
Unfortunately, the Great Recession interrupted the project. Eckert has worked for over a decade with other development projects north of Happy Valley Road between 19th and 17th Avenues.
Although it was busy during this time, he couldn't shake the idea of ​​creating luxury garage suites.
"Arizona is an automotive state and I always thought there was a niche for it," Eckert said.
In 2018, he purchased 3 acres of land on Happy Valley Road and 15th Avenue and began the early development of Red Hawk Garage Suites.
Admittedly, the project is a year late.
"Our initial concept was to take this 3-acre parcel of land and set up an auto repair service center there, and then wrap the site with garages," Eckert said. "I ended up changing that by getting rid of the corner and incorporating the entire garage project over the entire plot. It delayed us about six months.
Once he found a plan he liked, costs increased and Eckert again put the project on hold for another six months.
The project was relaunched in February and gained some ground until quarantine fueled by the pandemic. Once Eckert started moving again, he encountered more roadblocks.
"We had real challenges and the city had real challenges getting the paperwork, documents and approvals," he said. "It has been a long and aggravating process.
Eckert said it took his company 11 months to get approval for the City of Phoenix's site plan.
Despite the challenges, he was still determined to make his vision a reality.
"As a developer, I take big risks for a living," Eckert said. "I'm also an economist by training, so I knew this thing was going to spread thanks to the concept of Garage Town and the success of Toy Barn. "
Eckert knew it was a bit risky to develop the area north of Happy Valley Road, but he liked it.
Eckert found it perfect as it is along the way for clients making trips to the north or to the lake.
"I wanted to look at this project through two perspectives," Eckert said. "One perspective was through the eyes of the car guys and the other perspective was through the people who own boats and RVs. The beauty of where we are is that we are a mile and a half east of I-17 and accessible by Loop 101 and Seventh Street.
The bet was won as Eckert reported that Red Hawk Garage Suites had reserved 30 of its 46 garages before starting. One of the clients is Jeremy Wells, who plans to turn the garage into a "fun zone" for himself and his teenage son.
"We are planning to bring our off-road bikes, table tennis, arcade games and sofas and are really excited to have an offsite place to hang out," he said.
Wells will also use it as storage space.
"We live in a house that is somewhat restricted in what you can store and that allows us to get the toys we want and enjoy them rather than storing them," he said.
With the success of the first series of spaces, Eckert plans to open additional locations and establish its brand.
"We are creating a brand and we plan to do it between six and eight other locations across the valley," he said. "We want Red Hawk Garage Suites to be synonymous with Valley. "
Info
redhawkgaragesuites.com