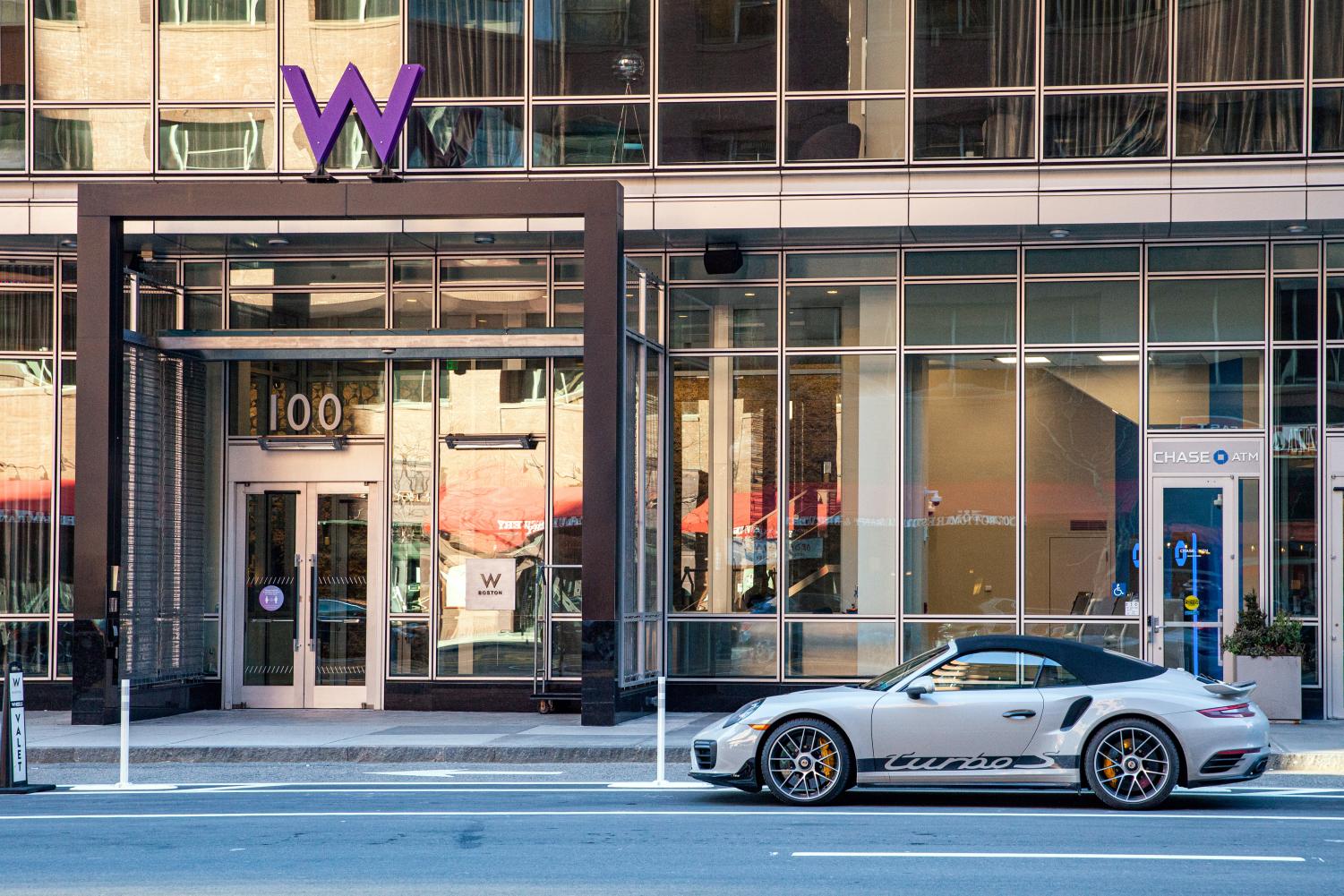 Students have moved to the W Boston hotel in an effort to create more isolation spaces
By Abigail Lee, Associate Editor of Corporate News
February 2, 2022
Emerson moved 40 students to the W Boston hotel at the start of the spring semester, to free up spaces for on-campus isolation facing increase in COVID-19 cases.
Students were moved to single rooms on the fifth and seventh floors of the W, each equipped with one or two king or queen beds, a television, mini-fridge, and desk. The relocation reflects the start of the pandemic, when 208 students were housed at the W – occupying floors five through 14 – during the 2020-21 academic year.
Following the record number of Omicron-induced cases – 431 since Jan. 3 at the time of writing the report – Emerson has reached a new agreement with the hotel to free up residential spaces for isolation on campus, said Director of Housing and Residential Education Christie Anglade. HRE emailed some students on December 28 and began the move-in process the first week of January. The college has concluded moves for the foreseeable future.
"Students had the option of selecting this housing option. If a suite or an individual in a suite declined, they remained in their current space in campus housing," Anglade said in email correspondence with The Beacon. .
To reduce the number of students who needed to be relocated, the college reached out to students who lived in suites with "pre-existing vacancies."
Those who accepted the offer were required to move into the hotel by Jan. 10 and move out when the residences close on April 29.
The move-in process involved signing a "hotel-specific addendum" as well as a room condition report upon arrival, Anglade said. Students must follow certain hotel policies in addition to normal residence policies. Two Emerson residential assistants supervise the students.
Jacob Warman, a sophomore in visual and media arts, moved from Paramount Center to his new "dorm" on January 10. Having previously lived in a six-person suite with two vacancies, he said he enjoyed his stay W
"It was like, 'Do I want to?'" he said. "But obviously it's a hotel, and there are people who don't have free space, so that's kind of the right thing to do."
Due to the hotel's proximity, Warman said he did not feel alienated from the rest of the population on campus.
"It's definitely better than Paramount," he said. "It's closer and I can just walk across the alley to the dining room."
Ava Salti, a sophomore in sports communication, also said she didn't feel left behind. Her daily activities, such as playing on the basketball team or visiting her friends, always allow her to feel part of campus life.
"I love it because I have my own space, but I'm not isolated either," Salti said. "There are ways to fit into campus…I don't feel like it's that bad."
Parker Gray, a young visual and media arts student and Warman's former suitemate, also said he appreciated the private space.
"Having a space for yourself can be important for a lot of students, especially me, because I tend to like being alone most of the time," he said. "The ability to have your own bathroom is definitely my biggest advantage as I no longer have to organize time with my roommates."
Nonetheless, Gray said that even with Emerson students occupying the same floors, there is a noticeable difference from the atmosphere of a residence hall.
"The only downside is the lack of a college dorm vibe," Gray said. "I don't feel as connected to other students [who live next to me] like I was living in a dormitory.
Despite the unexpected nature of the move, some students pointed to the financial benefits of being placed in the W.
"We're even luckier because it's basically like a huge single that I have," Warman said. "But the cool thing is that we always pay the price of a double."