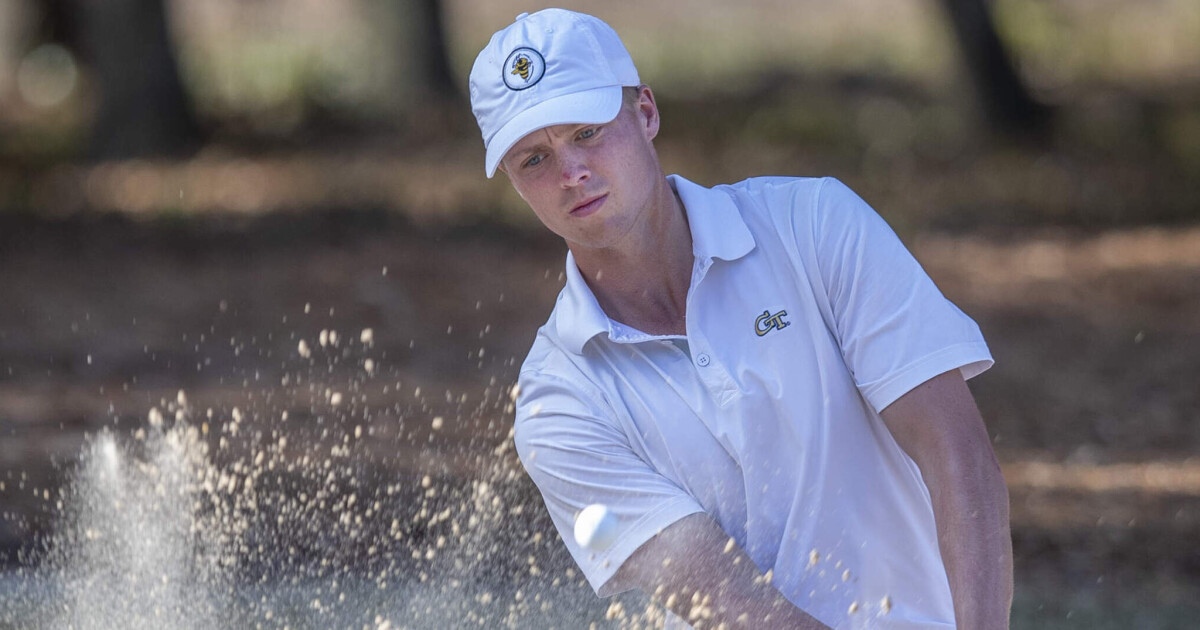 Tech finishes 5th at Southern Highlands – Men's Golf – Georgia Tech Yellow Jackets
Las Vegas, Nevada – Georgia Tech posted three below-par scores, led by by Christo Lamprecht 3 under par 69, for a closing round of 5 under par 285 and finished in fifth place at Southern Highlands Collegiate.
The No. 12-ranked Yellow Jackets fell short of their fourth win this year but finished strong against a 15-team field that included seven teams ranked in the top 25 of Golfstat's current rankings, nine in the top 50. Tech returns to action March 24-26 at the Goodwin in Palo Alto, Calif.
TECHNICAL RANGE – Lamprecht played his last six holes at Southern Highlands Golf Club at 2 under par and recorded five birdies in his round of 69, securing a tie for second place individually at 11 under par 205. George's second, Africa du Sud notched his third top 10 finish in seven events this year.
Junior Connor Howe (Ogden, Utah) played solidly from start to finish of the tournament and closed with a 2-under 70 on Tuesday, while the juniors Bartley Forrester (Gainesville, Georgia) shot 1 on par 73 for the Yellow Jackets. Both players tied for 18and place in the overall standings with scores of 5 under par 211.
First-year student Benjamin Reuter (Naarden, Netherlands) provided Tech's fourth tally score on Tuesday with a 1-under-pat 71, while the Jackets threw a 78 from the junior Ross Steelman (Columbia, Missouri).
Christo Lamprecht has three top-10 finishes in seven events this year. (photo by Ross Obley)
TEAM RANKING – The top three teams after 36 holes shot the best rounds on Tuesday and maintained their position in the standings. Top-ranked Oklahoma went 12-under, scoring a 67 and a 68 on Tuesday to claim the tag team title at 38-under 826.
The Sooners finished seven strokes ahead of No. 5 Pepperdine (833, -31). The defending NCAA Waves champion had the best round of the day at 15 under par 273, counting a 65 and a 67. The No. 15 from Texas shot 10 under par 278 to take third place at 835 (-29).
Florida's No. 24 shot 284 under on Tuesday and finished in fourth place (844, -20), one stroke ahead of the Yellow Jackets (845, -19).
No. 9 Georgia (848, -16), No. 29 New Mexico (849, -15), No. 19 Illinois (854, -10), SMU (856, -8) finished fifth through ninth, with TCU and host UNLV tied for 10and at 858 (-6).
INDIVIDUAL CLASSIFICATION – Medalist honors went to Patrick Welch of the Sooners, who easily held onto his 36-hole lead with a 5-under 67 on Tuesday. His 54-hole total of 202 (-14) left him three strokes ahead of Lamprecht of Georgia Tech, Joe Highsmith of Pepperdine, Cole Hammer of Texas, Drew Goodman of Oklahoma and Fred Biondi of Florida, who finished second. at 11 under par 205.
Logan McAllister of the Sooners, Travis Vick of the Longhorns and Ricky Castillo of the Gators finished seventh at 207 (-9).
TOURNAMENT INFORMATION – Georgia Tech participated in Southern Highlands Collegiate for the 18th time. Tech has won the event twice, in 2001 and 2002, but hasn't finished higher than sixth in solo (2005, 2019) since then. Four Yellow Jackets, all of whom have competed on the PGA Tour, have won medal honors, starting in 1992 when Stewart Cink and David Duval shared the title. Troy Matteson won a share of the title in 2002 with Florida's Camilo Villegas, and Cameron Tringale won the tournament in 2009.
The tournament was held at Southern Highlands Golf Club, which measures 7,510 yards (par 72), the longest course on the Yellow Jackets schedule. For the second time, the individual champion will receive a bye into the Shriners Hospitals for Children Open, which takes place October 6-9, 2022 at TPC Summerlin in Las Vegas.
The field included (with Golfstat ranking) No. 1 Oklahoma, No. 5 Pepperdine, No. 9 Georgia, No. 12 Georgia Tech, No. 15 Texas, No. 19 Illinois, No. 24 Florida, No. 29 New- Mexico, No. 35 Northwestern, San Diego, SMU, Southern California, TCU, UCLA and UNLV.
Alexandre-Tharpe Fund
The Alexander-Tharpe Fund is the fundraising arm of Georgia Tech Athletics, providing scholarships, operations, and facilities support for over 400 Georgia Tech student-athletes. Help develop Georgia Tech's Daily Champions and help the Yellow Jackets compete for championships at the highest level of college athletics by supporting the Annual Athletic Scholarship Fund, which provides scholarships directly to Georgia Tech student-athletes. To learn more about supporting the Yellow Vests, visit atfund.org.
ABOUT GEORGIA TECH GOLF
Georgia Tech's golf team is on its 27thand year under head coach Bruce Heppler, winning 68 tournaments during his tenure. The Yellow Jackets have won 18 Atlantic Coast Conference championships, made 29 NCAA championship appearances, and been national runners-up four times. Connect with Georgia Tech Golf on social media by liking their Facebook page or following on Twitter (@GTGolf) and Instagram. For more information on Golf Tech, visit Ramblinwreck.com.