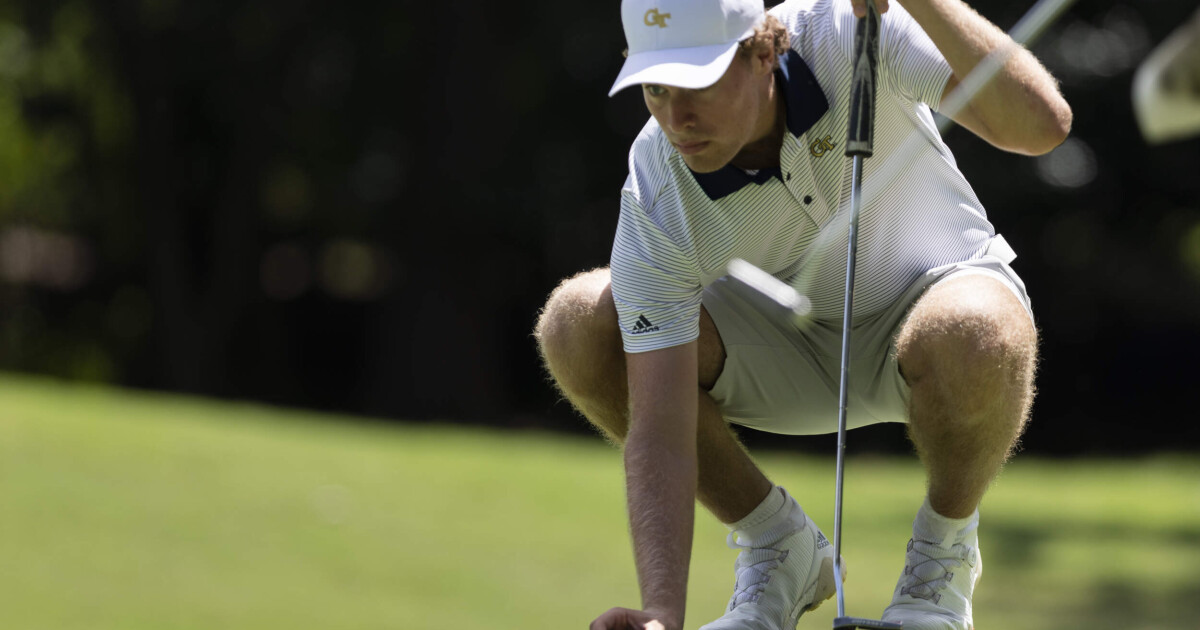 Tech Finishes 7th at Amer Ari Invitational – Men's Golf – Georgia Tech Yellow Jackets
Waimea, Hawaii – Ross Steelman shot a closing 66-under 66 for a top-10 finish, while Georgia Tech posted a 278 10-under on Saturday to finish in seventh place at the Amer Ari Invitational.
In a 19-team field with nine teams in the nation's top 25, the Jackets held onto their 36-hole position on Saturday but finished 22 shots off the lead as No. 4 Oklahoma State shot 24 under par for the day and passed Texas Tech for a one-shot victory over the Red Raiders.
TECHNICAL RANGE – For the second day in a row, Steelman started hot, getting three consecutive birdies from his first five holes, then adding four more to make up for a bogey for his 66. His 69-69-66 tournament gave him a total of 12 under par of 204 and a tie for eighth place individually, the third top 10 of the year for the junior from Columbia, Mo. He finished second in the field in scoring on par-4 (-7) holes.
Tech also had a 69 of 3 under senior par. Connor Howe (Ogden, Utah)a 1 under par 71 freshman Benjamin Reuter (Naarden, Netherlands) and a junior par 72 Bartley Forrester (Gainesville, Georgia) as part of his team total. Second year Christo Lamprecht (George, South Africa) didn't count on Saturday after carding a 73.
With three rounds under par (68-71-71), Reuters tied for 30and place at 6 under-pr 210, Lamprecht tied for 42n/a at 212 (-4), Howe tied for 45and at 213 (-3) and Forrester tied for 55and at 214 (-2).
Senior Ben Smith (Novi, Michigan)in individual competition, shot 80 on Saturday and tied for 87and place at 222 (+6) in the field of 115 players.
Tech finished the tournament with 64 birdies in three rounds, well behind the leaders. North Carolina led with 80.
Ross Steelman was Tech's top finisher, tied for eighth for his third top 10 of the year. (photo by Todd Drexler)
TEAM RANKING – Led by a 62 from medalist Eugenio Lopez-Chacarra, Oklahoma State saw four players break 70 on Saturday posting a 24-under round of 264. That put the Cowboys ahead of 36-hole leader Texas Tech and win the tournament by one stroke with a 50-under 814 total. Oklahoma State's 24-under round was better than nine teams in the field could manage for 54 holes.
The Red Raiders posted a 13-under 275 on Saturday and finished the tournament at 49-under 815. No. 3 Arizona State took third at 822 (-42), with North Carolina No. 2 North fourth at 826 (-38) and No. 21 Washington in fifth at 828 (-36).
Defending NCAA champion Pepperdine (830, -34), No. 17 Georgia Tech (836, -28), UCLA (838, -26), No. 7 Stanford (839, -25) and No. 8 Texas ( 847, – 17) completes the top 10.
Sixteen of the nineteen teams on the field finished under par for the tournament.
INDIVIDUAL CLASSIFICATION – Oklahoma State's Lopez-Chacarra went 67-68-62 for a 54-hole total of 197 (-19) to earn medalist honors by two strokes over 36-hole leader Baard Skogen of Texas Tech (199, -17) . Washington's RJ Manke and Arizona State's Mason Anderson tied for third at 16 under 200.
The Cowboys' Rayhan Thomas finished alone in fifth place at 201 (-15), while Garrett Martin pf Texas Tech and David Ford of North Carolina tied for sixth at 202 (-14). Georgia Tech's Steelman and Arizona State's Preston Summerhays are tied for eighth at 204 (-12).
In total, 64 of the 115 players in the tournament are under par over 54 holes.
"We just haven't been able to birdie enough in the three days here. We will go home and work on our scoring skills, we need to improve on and around the greens. We have a good group here, and we can improve."
Head Coach Bruce Heppler
TOURNAMENT INFORMATION – Georgia Tech has played in the Amer Ari Invitational every year since 1999. The 31st The annual event, which runs Thursday through Saturday, is a traditional 54-hole, 5-count-4 stroke play collegiate tournament. This year's event was played on the Hapuna Golf Course in Waimea (6,875 yards, par 72).
The Yellow Jackets have won this event five times, all between 2000 and 2007, and six Yellow Jackets have won or shared the individual title, including Matt Kuchar (shared title in 2000 and 2001), Carlton Forrester (shared title in 2000), Bryce Molder (shared title in 2001), Troy Matteson (2003) and Cameron Tringale (2007).
The field included (with Golfstat ranking) No. 3 Arizona State, No. 18 Auburn, Colorado, No. 20 Georgia Tech, Hawai'i, No. 2 North Carolina, No. 4 Oklahoma State, Oregon, Oregon State, Pacific, No. 6 Pepperdine, San Jose State, No. 7 Stanford, No. 8 Texas, TCU, Texas Tech, UC Davis, UCLA, UH Hilo and No. 21 Washington.
Freshman Benjamin Reuter posted three rounds below average. (photo by Todd Drexler)
Alexandre-Tharpe Fund
The Alexander-Tharpe Fund is the fundraising arm of Georgia Tech Athletics, providing scholarships, operations, and facilities support for over 400 Georgia Tech student-athletes. Help develop Georgia Tech's Daily Champions and help the Yellow Jackets compete for championships at the highest level of college athletics by supporting the Annual Athletic Scholarship Fund, which provides scholarships directly to Georgia Tech student-athletes. To learn more about supporting the Yellow Vests, visit atfund.org.
ABOUT GEORGIA TECH GOLF
Georgia Tech's golf team is in its 27thand year under head coach Bruce Heppler, winning 67 tournaments during his tenure. The Yellow Jackets have won 18 Atlantic Coast Conference championships, made 29 NCAA championship appearances, and been national runners-up four times. Connect with Georgia Tech Golf on social media by liking their Facebook page or following on Twitter (@GTGolf) and Instagram. For more information on Golf Tech, visit Ramblinwreck.com.