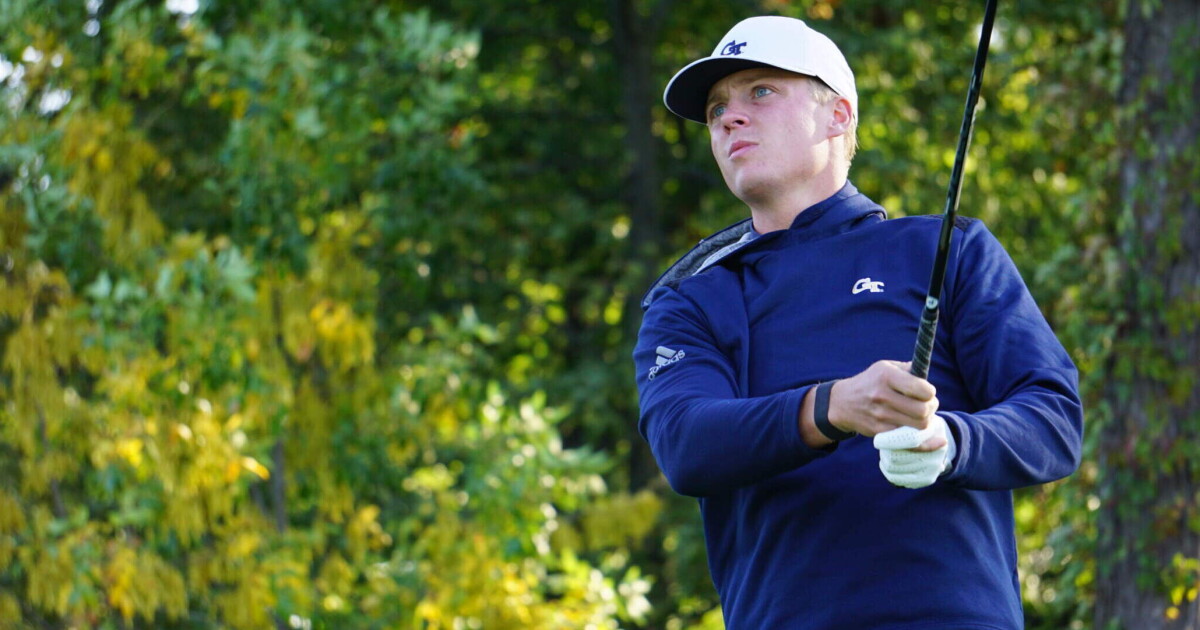 Tech Golf Tied for 5th at Windon Memorial – Men's Golf – Georgia Tech Yellow Jackets
THE APARTMENTS – Christo Lamprecht shot 68 and 71 balls on Monday and is tied for ninth place individually, while No.8 Georgia Tech shot identical 281 balls in the morning and afternoon and is tied for fifth place at the Windon Memorial Classic Monday and Tuesday in Glencoe, Ill.
As the Yellow Jackets completed their second round of the day with 36 holes on Monday, five teams were unable to complete the second round at Lake Shore Golf Club as night fell. Notre Dame, South Florida and Marquette, the top three teams in the standings, along with Kent State and Cal Poly, will resume Round 2 at 8:30 a.m. EST on Tuesday morning. The final round will start at 9:15 a.m.
TECHNICAL RANGE – Ben smith and Connor howe led the Yellow Jackets in the afternoon round, shooting 67 (-4) and 69 (-2) while Tech shot 281 (-3). Lamprecht added a par 71 and Ross steelman a 74 while Tech maintained its position in the standings from the morning round.
Lamprecht and Steelman each shot 68 (-3) in the first round, while Howe shot 71 and Bartley Forrester added a 74 as the Jackets posted an identical score of 281 to tie for fifth.
Lamprecht carved out a spot among the individual leaders early on Monday, posting three birdies and an eagle in his morning round of 68. George's second in South Africa fell to 5 below par for the tournament. when he has a birdie on par 3. 14e in the afternoon, but missed two of his last three holes to finish at 139 (-3), tied for ninth.
Howe, a junior from Ogden, Utah, had four birdies and two bogeys in his afternoon 69 and is tied for 13e place at 2 under par 140. Steelman, a junior from Columbia, Missouri, is tied for 29e au pair 142, while Smith, a senior from Novi, Mich., is tied for 47e to 144 (+2).
Seven of the 14 teams completed 36 under par.
TEAM RANKING – Notre Dame (-10), South Florida (-9) and Marquette (-7), the top three teams in the standings, were still on the golf course when play was suspended on Monday. Player # 5 on each team had two holes to play, while Player # 1 had five holes to play.
Washington was the leader in the clubhouse, posting a 36 hole score of 561 (-7). Tech and Kansas are tied for fifth at 562 (-6), followed by host Northwestern (563, -5), all having completed their second rounds.
Kent State (-3) was in eighth place with its inning still unfinished, while Michigan State was at the clubhouse at 566 (-2). Palmer Jackson of Notre Dame and Hunter Eichhorn of Marquette are also 2 under par, but did not complete their second lap.
INDIVIDUAL RANKING – Washington's RJ Manke leads the medal race with a score of 136 (-6) over 36 holes after scoring a 65 in the afternoon. He's one step ahead of Davis Cooper of Kansas, who finished 36 holes at 5 under par 137.
Ben Smith led the Jackets in the afternoon with a 67 of 4 under par. (photo by Paul Kennedy)
TOURNAMENT INFORMATION – The Yellow Jackets are participating for the first time in the Windon Memorial Classic. Northwestern University is hosting the 14-team event, to be held on the 24e time, at the Lake Shore Golf Club (7,000 yards, par 71) on the shores of Lake Michigan. Teams will play 36 holes on Monday and 18 holes on Tuesday, using a split tee format and shotgun tee for each round.
Eight teams that competed at the NCAA Regional Championships last spring are on the field for the Windon, including Northwestern (host), Cal Poly, Georgia Tech, Indiana, Kansas, Kent State, Marquette, Michigan State, North Florida, Notre Dame, Ohio State, South Florida, UC Davis and Washington.
---
"In each round we had three good scores, but we didn't get the fourth that we needed. There isn't a lot of separation (on the standings), so if we can get it, we Here we are. This is a good golf course, not too long but quite demanding. We struggled with the pace of the greens and had too many three putts today. They were smooth and fast. Ben made a great course in the afternoon in difficult conditions, great to see him bounce back from a disappointing round in the morning. "
Head Coach Bruce Heppler
---
Alexander-Tharpe Fund
The Alexander-Tharpe Fund is the fundraising arm of Georgia Tech Athletics, providing scholarships, operations, and facility support for Georgia Tech's more than 400 student-athletes. Participate in the development of Georgia Tech's Daily Champions and help the Yellow Jackets compete for championships at the highest levels of varsity athletics by supporting the Annual Sports Scholarship Fund, which provides scholarships directly to Georgia Tech student-athletes. To find out more about support for yellow vests, visit atfund.org.
ABOUT GEORGIA TECH GOLF
Georgia Tech's golf team is in its 27th yeare year under the direction of head coach Bruce Heppler, winning 66 tournaments during his tenure. The Yellow Jackets have won 18 Atlantic Coast Conference Championships, made 29 NCAA Championship appearances and were national finalists four times. Connect with Georgia Tech Golf on social media by liking their Facebook page or following Twitter (@GTGolf) and Instagram. For more information on Tech Golf, visit Ramblinwreck.com.