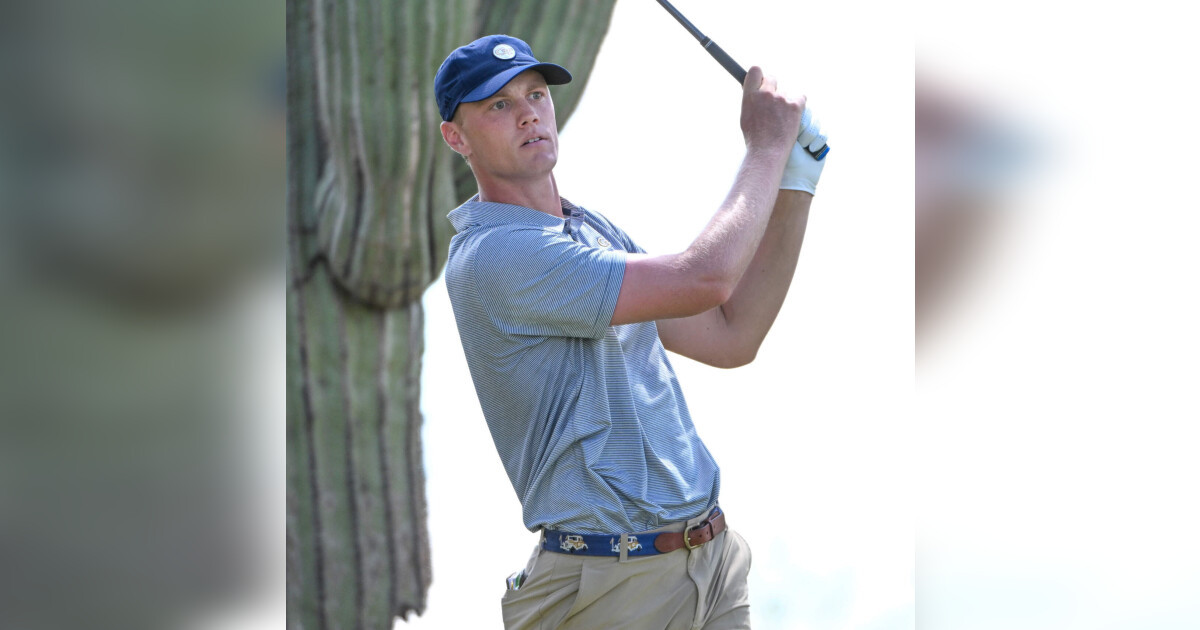 Tech Golfers through 9th at Maui Jim Intercollegiate – Men's Golf – Georgia Tech Yellow Jackets
Scottsdale, Ariz. – Bartley Forrester shot a 7 under par 63 on Saturday, and Connor Howe added a 3-under 67, allowing No. ¾ Georgia Tech to post a 13-under 267 round and move up two spots to ninth after 36 holes at the Maui Jim Intercollegiate.
Meanwhile, freshman Hiroshi Tai went 12-under in the 36-hole final of the Individual Tournament at Desert Mountain and earned his first win in a collegiate playoff tournament against Arizona State's Michael Mjaaseth.
After struggling on the front nine Friday at the 7,118-yard, par-70 Mirabel Golf Club, the Yellow Jackets scored 10-under Saturday on the same nine holes, which was their closing nine for Round 2. They passed New Mexico and Wake Forest in the standings and sat 16 strokes behind Auburn, which leads the team race by two over Arizona State.
Tech, which won this event last September at 44 under par, will begin its final round of the 54-hole tournament at 11:40 a.m. ET on Sunday.
TECHNICAL RANGE – With four birdies and a bogey on his front nine and four birdies and no bogey on his back nine, Forrester tied his career low round, which was posted at Mirabel in the third round of this event a year ago, and tied for the low round of the day. The eldest from Gainesville, Georgia, went tied for 20e place at 5 under par 135. Howe also played the bogey second nine for free for his 67 and completed 36 holes at 8 under par 132, tied for ninth place individually.
Ross Steelmanadded a 1 under par 69 on Saturday to his opening 66 and is also tied for 20e place at 5 under par 135. Tech also scored a 2 under par 68 in the first year Aidan Tranand junior Christo Lamprecht shot 1 under par 69.
Hiroshi Tai shot 12-under in Saturday's 36-hole singles final at Desert Mountain to win the tournament in the playoffs. (photo by Mike Holmes)
EVENT SUMMARY BY TEAM –Auburn maintained their lead by posting a 268 12-under on Saturday, but saw it shrink to just two strokes after Arizona State shot 23-under 257. The Tigers have a 36-under total holes of 526 (-34), while the Sun Devils finished the second round at 528 (-32).
Florida State shot 19 under on Saturday and sits in third place at 531 (-29), followed by Tennessee (533, -27) in fourth. San Diego State and Oregon are tied for fifth at 538 (-22). Washington (540, -20), Arizona (541, -19), Georgia Tech (542, -18) and New Mexico (546, -14) round out the top 10 of 18 teams.
With a 63, Caleb Surratt of Tennessee took the lead in the individual standings at 13 under par 127, one stroke ahead of Owen Avril of Oregon (128, -12). Florida State's Cole Anderson, with a 64 on Saturday, is tied for third with Auburn's Ryan Eshleman at 11-under 129. Eshleman followed his first-round 60 with a 69. Shea Lague of the San Diego State and Wake Forest's Boyd Owens are tied for fifth at 130 (-10).
INDIVIDUAL EVENT SUMMARY – Georgia Tech's Tai shot 68-66 rounds on Saturday and finished the individual event on the Desert Mountain Outlaw course tied with Arizona State's Mjaaseth at 14-under 202. The Yellow Jacket rookie walked away with his first collegiate victory with a birdie on the first hole of the playoffs and outlasted 36 other players for the triumph.
TOURNAMENT INFORMATION – The Yellow Jackets are participating in the Maui Jim Intercollegiate for the fifth time, having won the tournament in 2018 and 2021 after finishing sixth and second the previous two years. Georgia State hosts the 18-team event, which is 54 holes ending Sunday. The team event takes place at Mirabel Golf Club, a 7,118-yard, par-70 course in Scottsdale, Arizona, in the same vicinity as Grayhawk Golf Club, site of the NCAA championship last spring and during each of the next two years. .
A 54-hole companion event for those not in their team's starting lineup is held concurrently at the Outlaw course at Desert Mountain. Three Tech players took part in the individual competition, which ended on Saturday.
Participating teams include Arizona, Arizona State, Auburn, Clemson, East Tennessee State, Florida State, Georgia State, Georgia Tech, Louisville, New Mexico, NC State, Oregon, San Diego State, Tennessee, UCLA, UNLV, Washington and Wake Forest . Georgia Tech (3), Arizona State (5), Tennessee (10), Florida State (11), Wake Forest (24), Oregon (26), East Tennessee State (27) and Washington (30) are all listed among Golf the chain's top 30 pre-season teams.
Alexandre-Tharpe Fund
The Alexander-Tharpe Fund is the fundraising arm of Georgia Tech Athletics, providing scholarships, operations, and facilities support for over 400 Georgia Tech student-athletes. Help develop Georgia Tech's Daily Champions and help the Yellow Jackets compete for championships at the highest level of college athletics by supporting the Annual Athletic Scholarship Fund, which provides scholarships directly to Georgia Tech student-athletes. To learn more about supporting the Yellow Vests, visit atfund.org.
ABOUT GEORGIA TECH GOLF
Georgia Tech's golf team is in its 28the year under head coach Bruce Heppler, winning 70 tournaments during his tenure. The Yellow Jackets have won 18 Atlantic Coast Conference championships, made 31 NCAA championship appearances, and been national runners-up four times. Connect with Georgia Tech Golf on social media by liking their Facebook page or following on Twitter (@GTGolf) and Instagram. For more information on Golf Tech, visit Ramblinwreck.com.