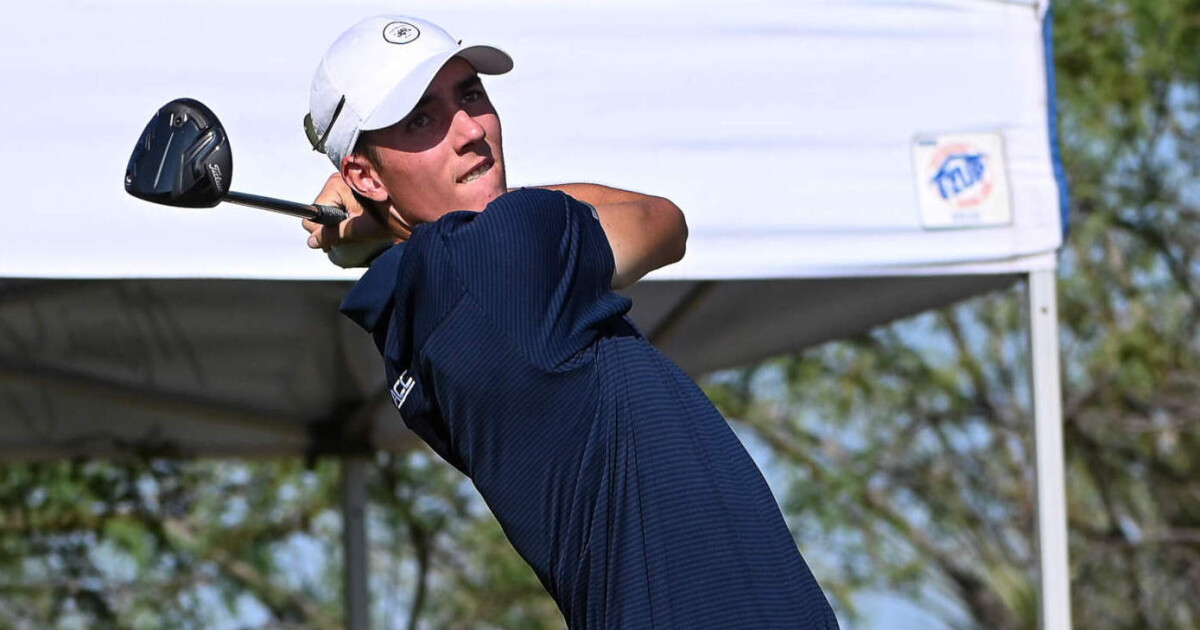 Tech Leads by 4 in Maui Jim Intercollegiate – Men's Golf – Georgia Tech Yellow Jackets
Scottsdale, Arizona – Christo Lamprecht and Ben smith shot 7 balls under par of 63 on Saturday and 17eGeorgia Tech tied a team record for an 18-hole low-round (262) to take a four-stroke lead after 36 holes at the Maui Jim Intercollegiate.
Lamprecht and leader of the first round Ross steelman stand 1-T2 on the individual classification with Ben smith Tied for sixth as the Yellow Jackets aim to win their first tournament of the 2021-22 season and head coach Bruce heppler victory # 66 in his 27-year tech career.
All five Tech starters had below-average rounds on Saturday as the Yellow Jackets recorded a total of 262, tying a team record set at the 2005 Waikoloa Intercollegiate.
Ben Smith's career record 63 on Saturday sees him tied for sixth individual place. (photo by Todd Drexler / SESPORTSMEDIA.com)
TECHNICAL RANGE – Lamprecht and Black-smith each had eight birdies and a bogey en route to their career lowest rounds on Saturday. Lamprecht, a sophomore from George, South Africa, took the individual lead at 12 under par 128, while Smith, a senior from Novi, Mich., Is tied for sixth place at 10 under par. 130.
Steelman, the first round leader with a 62, followed with a 70 under par of 3 on Saturday and is tied at four for second place. The Columbia, Missouri junior birdie six holes in his round. Junior Connor Howe (Ogden, Utah) and first year student Benjamin Reuter (Naarden, Netherlands) every hit 69 saturday.
Tech actually has four top 15 players, including juniors. Bartley Forrester (Gainesville, GA), who called his first 64 with a par 70 on Saturday, and is tied both ways for 11e 6 under par 134. Forrester competes as an individual and does not count towards the score of the Yellow Jackets team. Second year Aidan Kramer (Oviedo, Florida), also in the individual competition, shot at 2-under 68 on Saturday.
TEAM RANKING – Tech, at 34 under par of 526, and Clemson at 30 under par 530, are head and shoulders ahead of the rest of the field after 36 holes. The Tigers posted a 264-under-par of 16 on Saturday, topped just the 262-of-18-under-par of the Yellow Jackets on a day where 13 of 14 teams were above par.
Louisville, Auburn and Washington are tied for third place at 15 under 545, followed by San Diego State at 14 under 546. California and Arizona are tied for seventh at 8 under par. par 552, followed by Oregon at 7-minus 553 and Utah 6-minus 554.
INDIVIDUAL RANKING – Tech Christo Lamprecht took the individual lead after 36 holes, opening 65 with a 63 to post a total of 128 (-12) in two rounds. He's one shot ahead of four players tied at 11 under par 129, including the Yellow Jackets. Ross steelman, the first-round leader who shot 67 on Saturday. This group also includes Sam Sommerhauser of Arizona, Kyle Cottam of Clemson and David Puig of Arizona State.
Tech Ben smith is tied at three for sixth place at 10 under par 130 with JM Butler of Auburn and Jacob Bridgman of Clemson, who shot one of two 62s that were posted on Saturday, the low round of the day.
Washington's Taehoon Song (131, -9) and RJ Manke (132, -8) hold the ninth and 10the place individually. Manke also shot 62 on Saturday.
---
"We had another good round today, and it almost got really special. Like I said yesterday, I think we can throw five or six guys who can post a low number, and we almost have them. had a third today. It's gonna be a good fight tomorrow and will probably come down to the last two holes. "
Head Coach Bruce Heppler
---
TOURNAMENT INFORMATION – The Yellow Jackets have entered the Maui Jim Intercollegiate for the fourth time, having won the tournament in 2018 after finishing sixth and second the previous two years. The state of Georgia hosted the 14-team event, which has 54 holes over three days, ending Sunday at the Mirabel Golf Club, a 7,081-yard par 70 course in Scottsdale, Ariz., In the same neighborhood as the Grayhawk Golf Club, site of the NCAA Championship last spring and in each of the following two years.
The tournament uses a split start format for all three rounds, ending with the final round at 10 a.m. ET on Sunday.
Participating teams include Georgia State, Arizona, Augusta, Clemson, Auburn, Alabama, Cal, Colorado State, Denver, Georgia Tech, Louisville, New Mexico, Oregon, San Diego State, Utah and Washington. Four of the 16 teams competed in the NCAA Championship last year, while eight others competed in the NCAA Regional Game. Auburn, Clemson, Georgia Tech and Wake Forest are ranked in the top 25 Bushnell / Golfweek preseason coaches.
Ross Steelman is tied for second after scoring a 67 on Saturday. (photo by Todd Drexler / SESPORTSMEDIA.com)
Alexander-Tharpe Fund
The Alexander-Tharpe Fund is the fundraising arm of Georgia Tech Athletics, providing scholarships, operations, and facility support for Georgia Tech's more than 400 student-athletes. Participate in the development of Georgia Tech's Daily Champions and help the Yellow Jackets compete for championships at the highest levels of varsity athletics by supporting the Annual Sports Scholarship Fund, which provides scholarships directly to Georgia Tech student-athletes. To find out more about support for yellow vests, visit atfund.org.
ABOUT GEORGIA TECH GOLF
Georgia Tech's golf team is in its 27th yeare year under head coach Bruce Heppler, winning 65 tournaments during his tenure. The Yellow Jackets have won 18 Atlantic Coast Conference Championships, made 29 NCAA Championship appearances and were national finalists four times. Connect with Georgia Tech Golf on social media by liking their Facebook page or following Twitter (@GTGolf) and Instagram. For more information on Tech Golf, visit Ramblinwreck.com.