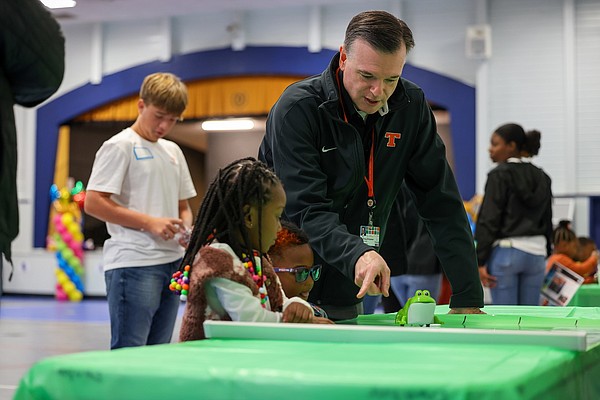 THS welcomes Tiger Tours to showcase facilities and programs
TEXARKANA, Texas – The Texas High School Super Tigers management team hosted Tiger Tours on Tuesday, October 25, 2022.
This student-led event allowed members of the community to attend some of the courses and programs offered by Texarkana ISD.
Tiger Tours began Tuesday morning at the Dan Haskins Center at Texas High School. Texas High Culinary Arts students served breakfast to guests, and various groups of students introduced visitors to the programs available at THS, including Career and Technology Education, Advanced Placement and Dual Credit Courses, and leadership programs.
The leadership students also presented special entertainment, and superintendent Dr. Doug Brubaker presented the 2022 bond proposal and other district updates.
After these introductions, community members boarded a bus to visit the Dunbar Early Education Center and Wake Village Elementary School. They also visited the property of Pine Street, Highland Park and Spring Lake Park Elementary Schools. This bus tour allowed attendees to see the proposed updates addressed by the bond election.
Student leaders also provided lunch after the visit to the Child Nutrition Center and a closing ceremony at the Sullivan Performing Arts Center.