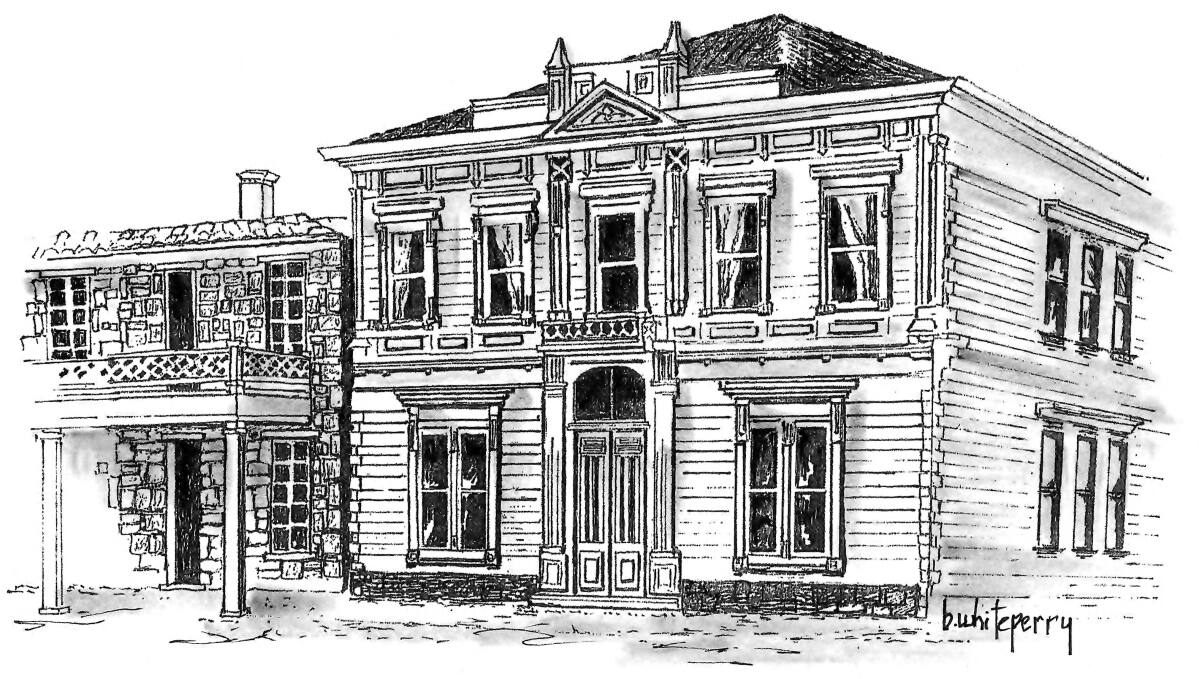 Union Hotel and Union Hall
[ad_1]
On the last Friday of each month, the Index-Tribune publishes ink illustrations and historical essays by Sonoma artist Barbara White Perry. His book, "Drawing Sonoma" celebrates the historic and unique properties of Sonoma Valley. A chapter in his book documents structures and perspectives lost forever through neglect, time or development. The Union Hotel and Union Hall is part of this chapter.
UNION HTEL AND UNION HALL, 1847
35 W. Napa St., Sonoma
California State Historic Landmark # 627
The Union Hotel and the original Union Hall were located on the southeast corner of First Street West and Napa Street. Three Mexican War veterans formed a partnership or "union" and built the two structures in 1847. The hotel, a one-story adobe, had a bar below street level because a lot of land on it. the site was used to make adobe bricks. It is said that during heavy rains, the building would be flooded and that a boat would be needed to have a drink. Union Hall, a one-story frame building served as a meeting place and social center. The three veterans took advantage of their business and sold out in 1851.
Both buildings were destroyed by fire in 1866.
In 1867, the Union Hotel was rebuilt by John H. Lutgens as a two-story stone structure with 30 rooms. (As seen in this illustration). Lutgens rented the hotel to Frank Oettl, a former brothel pianist from the West. For many years the new owners of the hotel came and went.
Union Hall was not rebuilt until 1885. Landowner Henry Raschen rebuilt Union Hall into a two-story wood and stone structure. The stage with curtains was used for theatrical and musical productions. The hall was large enough for Sonoma High School to play basketball games inside.
In 1916, the hotel and lobby were acquired by John and Joséphine Steiner. Unless prohibited, their son John ran the hotel bar and Joséphine Andrieux managed the hotel dining room. By the 1950s, both buildings had been converted to commercial rentals. The Bank of America acquired both properties in 1955.
The two buildings with colorful histories were demolished in 1956. The Bank of America building and parking lot now occupies the corner across from historic Sonoma Square.
"Draw Sonoma" is available in Readers' Books at Sonoma.
Email [email protected]
[ad_2]