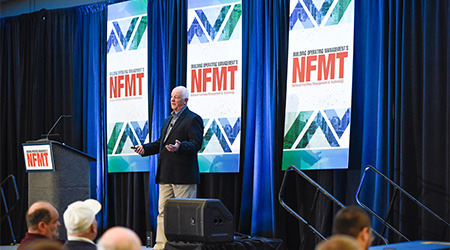 What to expect at NFMT 2022
For the first time since 2019, NFMT returns to the Baltimore Convention Center to bring world-class education and new products to facility professionals.
The National Facilities Management & Technology (NFMT) Conference & Expo makes its triumphant return to the Baltimore Convention Center March 29-31, 2022. This is the first time NFMT has returned to Baltimore since the COVID-19 pandemic began in March 2020 .
"Installations managers are ready to return to in-person events," says Dan Weltin, editor, installations market at Trade Press Media Group. "Virtual conferences have been helpful during the pandemic, but they are no substitute for a live trade show. NFMT will be the best opportunity to discover the latest trends and see new products.
NFMT was first launched in 2001 by Building Operating Management and Facility Maintenance Decisions magazines with the goal of providing world-class training, products and networking for facility professionals. Twenty years later, the show continues to deliver on its promise of providing broad training to facility professionals ranging from government, healthcare, retail, education, hospitality and more. The lounge now offers four different registration options, allowing for a more personalized experience. The levels are:
Basic: At this level, registrants can attend the exhibition for free and have access to 20-minute learning lab sessions. In addition, Basic level registrants can attend the Networking Party which is held on the evening of March 29.
Pro: For only $29, registrants can upgrade to the "Pro" level. At the Pro level, in addition to attending the 20-minute learning lab sessions and the Networking Party, attendees can pre-register for all sessions, gain on-site access to 40 breakout sessions, and can earn units of continuing education.
Elite: For $149, registrants can become an "Elite" participant. Guests will have access to everything in the aforementioned tiers, including video access to content after the show ends. Additionally, Elite participants will also get a six-month subscription to fnPrime, a members-only community that features new resources every month to help installation professionals.
Virtual: In order to stay COVID-friendly, NFMT is offering a virtual option for attendees who want to stay remote for just $49. With this level, registrants can access 20-minute learning lab sessions.
"We're not only thrilled, we're thrilled to bring NFMT back to Baltimore," said Jill McDermott, CEO of Trade Press Media Group. "After three long years away, the facilities community is more than ready to return to a face-to-face setting. We look forward to hosting our 20th trade show with a dynamic exhibition and a particularly strong lineup of conference sessions. »
On March 28, the conference will begin with a two-hour interactive workshop that will provide practical tools. All Pro and Elite level participants are welcome to join the event.
NFMT also offers a series of educational sessions to help facility professionals grow in their careers. Core sessions will cover topics ranging from safety, technology and sustainability. These 60 minute seminars are designed to be more introductory and therefore all attendees are welcome to participate.
Breakout sessions will also be offered, focusing on key trends, challenges and opportunities in facilities management for the year and beyond. These 60-minute sessions delve into the details with a higher level of sophistication and holistic strategic thinking. All Pro and Elite registrants can attend these sessions.
More than 50 speakers will present this year.
"Attendees trust NFMT's education because the show is organized by the same team that is behind leading industry publications Building Operating Management, Facility Maintenance Decisions and FacilitiesNet.com," says Weltin.
New to the conference this year are the round tables. These 45-minute talks will focus on specific construction types or trends. These informal conversations will allow participants to network with their peers in a smaller group environment. Registrants are encouraged to ask questions of like-minded facility managers from across the country. Each roundtable will have an official moderator to guide the conversations as well.
Trade Press Media Group has been accredited as an authorized provider by the International Association for Continuing Education and Training (IACET). For this reason, all NFMT 2022 attendees are able to document and earn Professional Development Credits (CEUs) for attending full hour conference sessions. Ten days after the show ends, attendees will receive an email link with a review for each session they attended. After successfully answering the questions, participants will receive a transcript with the CEUS earned and can be used to register for any license or association.
Exhibit hall hours do not overlap with conference sessions, allowing attendees to attend the hall with over 100 exhibitors. The exhibition hall will house four different pavilions allowing facility professionals to see real-time products and experience service solutions.
The pavilions include:
Building department: This pavilion showcases vendors who provide installation solutions on a contract or project basis.
Safety, security and access control: The pavilion will host manufacturers of entrance systems, windows, doors, curtain walls, skylights, door hardware, security systems and access control.
Smart and Health Building pavilion: Showcasing products that enable facility managers to operate efficient, smart and sustainable facilities.
Facility maintenance and facility cleaning: The pavilion showcases vendors who provide maintenance and cleaning products and services and installation solutions.
Additionally, product zone sessions will also take place in the exhibit hall, covering innovative technologies and trends that will help solve all the challenges that facility managers face on a daily basis.
The demand for NFMT has never been higher than it is today. Equipment professionals are eager to discover new products and useful services. Stay up to date with the conference by following the hashtag #NFMT22 and facility maintenance decisions and building operations management on social media or by visiting nfmt.com.
NFMT takes place at the Baltimore Convention Center from March 29-31, 2022. To register, visit nfmt.com.
Mackenna Moralez is Associate Editor for the Installs Market.
---
---
---
Related Topics: