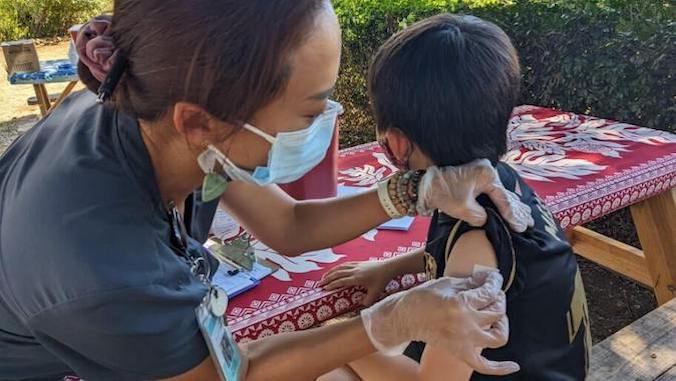 Young keiki get vaccinated at UH Children's Center
About 50 keiki under the age of 5 received their first dose of the COVID-19 vaccine at a clinic hosted by the University of Hawaii at the Mānoa Children's Center (UHMCC) and Healthy Mothers, Healthy Babies on June 24. The event took place a week after the Centers for Disease Control and Prevention (CDC) has given emergency use authorization for children aged 6 months to 5 years to receive the vaccine to help prevent the spread of the virus.
The clinic took place on the grounds of the uh Castle Memorial Hall at Mānoa College of Education and was open to anyone eligible to receive a photo between the ages of 6 months and 90 years old. A total of 100 injections of the Pfizer or Moderna vaccine were given during the clinic.
"Like all quality group daycares, UHMCC has partnered with registered families to control the spread of infectious diseases," said Jeffrey Bock, UHMCC Education Coordinator and Acting Director. "The COVID pandemic has continued to be a long and difficult battle, and the emergency final approval by the CDC for children 6 months to 5 years old has been a long overdue blessing.
UHMCC enrolled children between the ages of 2 and 5 and provided childcare services to student parents of uh Mānoa and his faculty and staff since 1987. As more vaccines are given to the 5-and-under age group, the center plans to adjust its response to exposure to COVID-19.
"Now, instead of closing a classroom, which limits access to affordable childcare, we are able to continue to offer childcare to people who are not exposed and who have a certain level immunity," added Bock.
According to local childcare experts from the Early Years Action Strategy, the pandemic has highlighted the important role childcare services play in enabling parents to work and the instability of childcare businesses. 'children. In 2019, approximately 64,066 children ages 0-5 needed child care with only 20,157 spaces available for children in licensed/registered child care in 2021. Additionally, more than 3,600 child care spaces were been lost due to the pandemic. challenges. Support to bolster the state's child care sector to improve children's and families' access to high-quality services is essential.
Bock noted that vaccines will help open up child care seats, but "it will be a long struggle to get back to where we were, let alone where we should be."
A second vaccination clinic is scheduled for July 22. For more information on how to pre-register, email [email protected]